Daytripper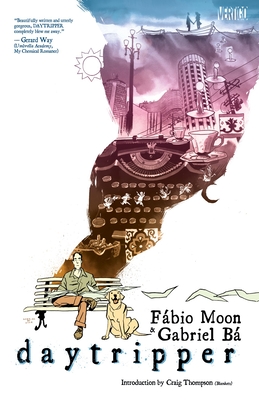 Daytripper
Vertigo, Paperback, 9781401229696, 247pp.
Publication Date: February 8, 2011
* Individual store prices may vary.
Buy at Local Store
Enter your zip code below to purchase from an indie close to you.
or
Buy Here
Description
The acclaimed DAYTRIPPER follows Bras de Olivias Dominguez during different periods in his life, each with the same ending: his death.
DAYTRIPPER follows the life of one man, Bras de Olivias Dominguez. Every chapter features an important period in Bras life in exotic Brazil, and each story ends the same way: with his death. And then, the following story starts up at a different point in his life, oblivious to his death in the previous issue and then also ends with him dying again. In every chapter, Bras dies at different moments in his life, as the story follows him through his entire existence one filled with possibilities of happiness and sorrow, good and bad, love and loneliness. Each issue rediscovers the many varieties of daily life, in a story about living life to its fullest because any of us can die at any moment.
About the Author
Geoff Klock has a doctorate from Oxford. He wrote How to Read Superhero Comics and Why in 2002 and he wrote another book that no one read cause it was a 100K-word study of seven poems and was only available in a ferociously expensive hardcover. He spoke about Fashion and Superheroes at the Met, got a grant to study Kill Bill, and made a Hamlet super-cut that got like 38,000 views on YouTube, which is a lot for a 15-minute video about Shakespeare. He rides a fixed gear bicycle to the Borough of Manhattan Community College. He teaches composition, old school British literature, and film. His arm has a titanium plate in it. One time he was in the circus, and another time he was in a play with Christopher Lloyd, and once he was in a conga line with Rebekah del Rio. He is pretty good at Twitter and Facebook and Tumblr?

Ba holds an Art degree from the University of Sao Paulo. He works as a professional illustrator for various media in Sao Paulo. He is currently learning 3D animation and finishing his senior project, a graphic novel.