Earth One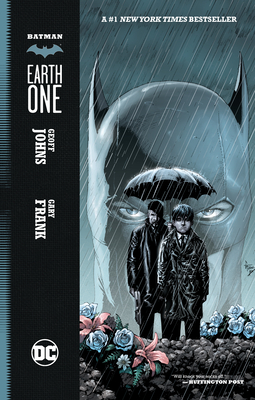 Earth One
DC Comics, Hardcover, 9781401232085, 144pp.
Publication Date: July 10, 2012
* Individual store prices may vary.
Shop Local
Enter your zip code below to find indies closest to you.
Description
A #1 NEW YORK TIMES BESTSELLER

Batman is not a hero.
 
He is just a man.
 
Fallible, vulnerable, and angry.
 
In a Gotham City where friend and foe are indistinguishable, Bruce Wayne's path toward becoming the Dark Knight is riddled with more obstacles than ever before. Focused on punishing his parents' true killers, and the corrupt police that allowed them to go free, Bruce Wayne's thirst for vengeance fuels his mad crusade and no one, not even Alfred, can stop him.

In the tradition of the #1 New York Times bestselling Superman: Earth One, writer Geoff Johns and artist Gary Frank re-imagine a new mythology for the Dark Knight, where the familiar is no longer the expected in this long-awaited original graphic novel from DC Comics.
About the Author
Born in 1973, Geoff Johns is Detroit native who brings a Hollywood sense of storytelling to comics. After working as an assistant to Richard Donner (director of "Lethal Weapon, Superman: The Movie," and many other great films), Geoff has brought his considerable writing talent to comics. One of the most prolific and popular writers in comics today, he is currently writing "JSA, Teen Titans," and "Flash" for DC. Johns' work revitalized "Hawkman" after a checkered history and brought new life into the "JSA" title, featuring many of DC's heroes from the Golden Age. His new version of the "Teen Titans" has been released in repeatedly sold-out issues. Among his upcoming projects is a re-launch of DC's popular "Green Lantern" series.


Praise For Earth One…
"After successfully re-imagining the Man of Steel in Superman: Secret Origin, Geoff Johns and Gary Frank have unleashed their talents on Bruce Wayne and proven, once again, that under the right stewardship, the Batman legend is endlessly malleable. Alfred as a former Royal Marine. The Penguin as a genuinely creepy and sadistic villain. Awesome."—David S. Goyer, co-writer of Batman Begins, The Dark Knight Rises, and Man of Steel
"For the first time in a long time, you can see Batman's eyes. That may seem like a minor change. It's not. Johns and Frank know that the real appeal of Batman is what hides within him. Now they're letting us take a brand new, breathtaking peek ... inside and out."—Brad Meltzer
"Just when you thought there couldn't possibly be a fresh take on Batman, along come Johns & Frank to prove you extraordinarily wrong. Original, surprising and emotional, Batman: Earth One is a must-read."—Damon Lidelof, co-creator and executive producer of Lost