Batman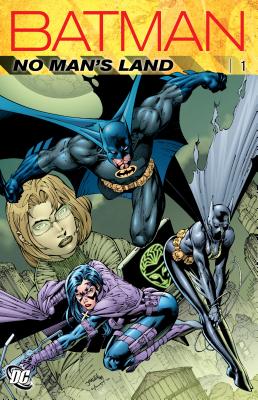 Batman
No Man's Land, Volume 1
DC Comics, Paperback, 9781401232283, 544pp.
Publication Date: December 13, 2011
* Individual store prices may vary.
Buy at Local Store
Enter your zip code below to purchase from an indie close to you.
or
Buy Here
Description
After suffering a cataclysmic earthquake, the U.S. government has deemed Gotham City as uninhabitable and ordered all citizens to leave. It is now months later and those that have refused to vacate 'No Man's Land' live amidst a citywide turf war inwhich the strongest prey on the weak. As gangs terrorize the ravaged populace, the Scarecrow uses a church relief project as a real life lab to test his experiments in fear. But with the return of the vigilante, Batman, and the appearance of anenigmatic new Batgirl, justice returns to Gotham.
BATMAN: NO MAN'S LAND VOL. 1 is the first chapter in the monumental crossover event that changed Gotham City and the Dark Knight forever. Collects BATMAN: NO MAN'S LAND #1, BATMAN: SHADOW OF THE BAT #83-86, BATMAN #563-566, DETECTIVE COMICS #730-733, AZRAEL: AGENT OF THE BAT #51-55, BATMAN: LEGENDS OF THE DARK KNIGHT #117-118 and BATMAN CHRONICLES #16.
About the Author
Bob Gale is an Academy Award-nominated Screenwriter-Producer-Director, best known as co-creator, co-writer and co-producer of"Back to the Future"and its sequels. Gale was born and raised in suburban St. Louis, Missouri, where he attended public high school; he then moved to Los Angeles to major in Cinema at the University of Southern California. He has written or co-written over 30 screenplays. His other film credits include"1941," "I Wanna Hold Your Hand," "Used Cars,"and"Interstate 60,"which he also directed. His darker side is clearly seen in the 1992 movie"Trespass," which he co-authored, and in his episode of"Tales From The Crypt," "House of Horror," which he wrote and directed. Gale has also written comic books, most notably issues ofSpider-Man, BatmanandDaredevil, thus proving to his father that he did not waste hours and hours reading comics in his youth. He lives in Southern California with his wife and their dog, and he still roots for the St. Louis Cardinals.



Devin Grayson has earned a reputation and fan-following on such books as Black Widow and DC Comics' Catwoman in writing tough, believable female characters.