The Unwritten, Volume 4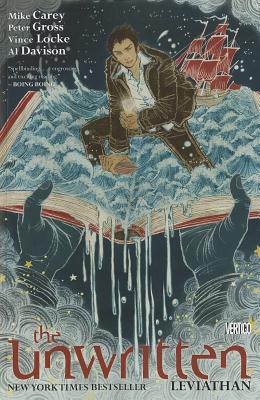 The Unwritten, Volume 4
Leviathan
Vertigo, Paperback, 9781401232924, 144pp.
Publication Date: October 25, 2011
* Individual store prices may vary.
Buy Now
or
Shop Local
Enter your zip code below to purchase from an indie close to you.
Description
Tom Taylor is more than just the son of one of the world's most popular authors and the namesake of his most beloved creation, the boy wizard Tommy Taylor. He's a living weapon in a literal war of words, in which a shadowy cabal uses the power of storytelling itself to shape the world according to their own dark designs. And he was born and bred to close the book on them forever. But now his own story is headed for it's most dangerous twist yet - a real whale of a tale.
In order to harness his extraordinary powers, Tom must sail the seas of one of the greatest stories ever told, and hunt the white whale that has left countless stories of myth and madness in its wake. Meanwhile, his friends are hunted by a dangerous new enemy and facing identity crises of their own. Will Tom's voyage lead them all to the answer they seek? Or will he drown in the depths of a thousand and one unhappy endings?
In The Unwritten: Leviathan, acclaimed storytellers Mike Carey and Peter Gross delve deeper than eve r before into their frightening, fascinating world.
About the Author
Linda, Louise and Mike Carey are three writers living in North London. Sometimes they write together, sometimes alone.
Louise wrote The Diary of a London Schoolgirl for the website of the London Metropolitan Archive. She also co-wrote the graphic novel Confessions of a Blabbermouth with Mike.
Linda, writing as A.J. Lake, authored the Darkest Age fantasy trilogy. She has also written for TV, most notably for the German fantasy animation series Meadowlands.
Mike has written extensively in the comics field, where his credits include Lucifer, Hellblazer, X-Men and The Unwritten (nominated for both the Eisner and Hugo Awards). He is also the author of the Felix Castor novels, and of the X-Men Destiny console game for Activision. He is currently writing a movie screenplay, Silent War, for Slingshot Studios and Intrepid Pictures.
They share their crowded house with two other writers/artists, a cat, and several stick insects.
Peter Gross is a professor of journalism at California State University-Chico. He was an East European Studies research scholar in 1996 at the Woodrow Wilson International Center for Scholars.