Origin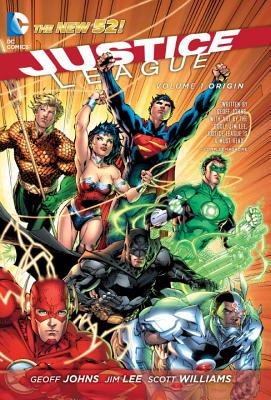 Origin
DC Comics, Hardcover, 9781401234614, 192pp.
Publication Date: May 8, 2012
* Individual store prices may vary.
Buy at Local Store
Enter your zip code below to purchase from an indie close to you.
or
Buy Here
Description
A NEW YORK TIMES BESTSELLER

As a part of the monumental DC Comics—The New 52 event, comics superstars Geoff Johns and Jim Lee bring you an all-new origin story for the Justice League!
In a world where inexperienced superheroes operate under a cloud of suspicion from the public, loner vigilante Batman has stumbled upon a dark evil that threatens to destroy the earth as we know it. Now, faced with a threat far beyond anything he can handle on his own, the Dark Knight must trust an alien, a scarlet speedster, an accidental teenage hero, a space cop, an Amazon Princess and an undersea monarch. Will this combination of Superman, The Flash, Cyborg, Green Lantern, Wonder Woman and Aquaman be able to put aside their differences and come together to save the world? Or will they destroy each other first?
In one of the most game-changing titles in comic industry history, Geoff Johns and Jim Lee re-imagine the classic heroes of the DC Universe for the 21st century. This volume collects issues #1-6 of Justice League, part of the DC Comics—The New 52 event.
About the Author
Geoff Johns is DC Comics Chief Creative Officer and an award-winning writer responsible for such crossover epics as Green Lantern, Blackest Night and Infinite Crisis, and was a key architect behind DC s The New 52 relaunch. He has written TV episodes of Smallville, Green Arrow and Flash and is Executive Producer on the forthcoming Batman vs. Superman: Dawn of Justice movie.

Acclaimed comic book illustrator Jim Lee was born in Seoul, South Korea in 1964. Today, Lee is the creative director of WildStorm Studios (which he founded in 1992) and the penciller for many of DC Comics' bestselling comic books, including All-Star Batman and Robin, The Boy Wonder and Batman: Hush. He also serves as the Executive Creative Director for the upcoming DC Universe Online videogame.
Praise For Origin…
"Writer Geoff Johns and artist Jim Lee toss you--and their heroes--into the action from the very start and don't put on the brakes. DC's über-creative team craft an inviting world for those who are trying out a comic for the first time. Lee's art is stunning."–USA Today
"Moves forward quickly and gets the reader intrigued from the start."–YAHOO! Associated Content
"Welcoming to new fans looking to get into superhero comics for the first time and old fans who gave up on the funny-books long ago.... Written by Geoff Johns, with art by the godly Jim Lee, Justice League is a must read."–Complex Magazine
"Action-packed."–Christian Science Monitor
"Fantastic."–News & Sentinel
"Lee exceeded my checklist of expectations in spades. After reading JUSTICE LEAGUE, I want the rest of the universe to have the same feeling of newness."–Ain't It Cool News
"A great book."–Ain't It Cool News, Five Star Review
"A fun ride."–IGN
"A good jumping-on point for new customers."–Paste Magazine
"I don't care that he doesn't have red trunks, and I don't care that his suit has a few pointless lines on it to make it look sort of armorish instead of tightsy. I don't even care that there's no spitcurl, but just an approximation of one. He's still Superman and he's still great." –CraveOnline
"Geoff Johns and Jim Lee] have breathed new life into the Justice League and it's already got me begging for more."–BigShinyRobot.com
"Vivid, heroic art by Lee."–Comics Beat
"A new or returning reader could hardly ask for a more approachable entry point."–iFanboy