Fairest Vol. 2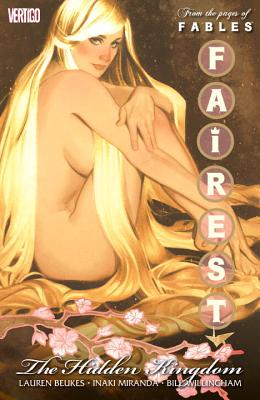 Fairest Vol. 2
Hidden Kingdom
Vertigo, Paperback, 9781401240219, 160pp.
Publication Date: July 30, 2013
* Individual store prices may vary.
Shop Local
Enter your zip code below to find indies closest to you.
Description
New York Times bestselling, award-winning creator Bill Willingham presents a new series starring the female FABLES. Balancing horror, humor and adventure in the FABLES tradition, FAIREST explores the secret histories of Sleeping Beauty, Rapunzel, Cinderella, The Snow Queen, Thumbelina, Snow White, Rose Red and others.
In a stand-alone tale, Beast must hunt a beauty, but what is her relation to his past? And then, in a 6-part epic, Rapunzel lives one of the most regimented lives in Fabletown, forced to maintain her rapidly growing hair lest her storybook origins be revealed. But when word of her long-lost children surface, she races across the sea to find them--and a former lover.
About the Author
Lauren Beukes is a writer, TV scriptwriter and recovering journalist (although she occasionally falls off the wagon). She has an MA in Creative Writing, but she got her real education in ten years of freelance journalism, learning really useful skills like how to pole-dance and make traditional sorghum beer. For the sake of a story, she s jumped out of planes and into shark-infested waters and got to hang out with teen vampires, township vigilantes, AIDS activists and homeless sex workers among other interesting folk. When she s not tutoring her baby daughter (aka the queen of eeeeeeevil) in practical ways to take over the world, she also writes books, short stories, magazine articles and TV scripts various.

Bill Willingham never fought a desperate and losing battle in a good cause, never contributed to society in a meaningful way, and hasn t lived a life of adventure, but he s had a few moments of near adventure. At some point in his life Bill learned how to get paid for telling scurrilous lies to good people, and he s been doing it ever since. He lives in the wild and frosty woods of Minnesota with a dog and a cat he hasn t met yet.


Praise For Fairest Vol. 2…
"By the time I put the book down I was already anticipating the further adventures of the Fairest fables. Willingham's love for these characters is a abundantly clear and palpable on every page."—boingboing.com

"This is a different, more fantastical take on the characters of the Fable setting, with little to no interactions with the modern world, instead a more imaginative approach to recreating the fantasy at the heart of the tales that inspired the setting. Jimenez's detailed art is fittingly gorgeous and gives the magic all the grandeur it deserves.—Publishers Weekly

Praise for Bill Willingham's Fables:

"Wonderful."—LA City Beat


"The best comic book currently being produced"—IGN