Death of the Family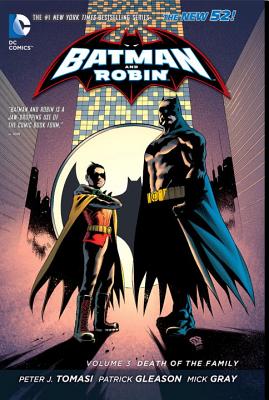 Death of the Family
DC Comics, Hardcover, 9781401242688, 160pp.
Publication Date: December 3, 2013
* Individual store prices may vary.
Buy Now
or
Shop Local
Enter your zip code below to purchase from an indie close to you.
Description
Bruce Wayne is Batman, Gotham City's dark protector. Damian Wayne is Robin, his partner in crimefighting-and his son. But something binds this Dynamic Duo together that runs deeper even than the blood in their veins: trust.
But what happens if that trust is broken?
After a year of silence, the mad laughter of the Joker can be heard echoing through Gotham's streets once again. Back with a vengeance, the Dark Knight's insane nemesis is out to destroy the Batman's connections to his closest friends and allies. And what better way to accomplish that than to pit father against son?
The relationship between Gotham's greatest heroes is put to the test like never before in BATMAN AND ROBIN: DEATH OF THE FAMILY (collects issues #15-17, BATMAN AND ROBIN ANNUAL #1 and BATMAN #17), from the bestselling creative team of Peter J. Tomasi (BRIGHTEST DAY), Patrick Gleason (GREEN LANTERN CORPS), and Mick Gray (BRIGHTEST DAY). It's the final word in whether this Robin is truly worthy of the mantle of the Bat.
About the Author


Scott Snyder is a program officer in the Research and Studies Program of the United States Institute of Peace, where he has organized a working group on U.S. policy toward North Korea since 1994. Author of numerous articles, he has been an Abe fellow and a staff member at the Asia Society.


Praise For Death of the Family…
"A jaw-dropping use of the comic book form. I am absolutely certain that the first full image of the Joker from this issue will never leave my memory."—IGN

"Now's a great time to be a Batman fan. Or a Robin fan. Or just a casual reader looking for a compelling Joker story."—CBR

"It's creepier than POLTERGEIST's Carol Ann in a movie with the two chicks from THE SHINING, really."—AICN