Rise of the Third Army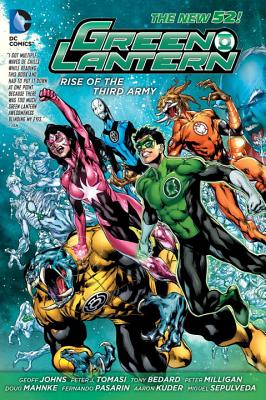 Rise of the Third Army
DC Comics, Hardcover, 9781401244996, 416pp.
Publication Date: September 10, 2013
* Individual store prices may vary.
Shop Local
Enter your zip code below to find indies closest to you.
Description
A New York Times Bestseller!

The universe is in shambles and the Guardians are the cause. Their mysterious Third Army has risen across the cosmos like a plague, destroying everything in its path and Hal Jordan and Sinestro are nowhere to be found. It is up to wrongfuly accused Simon Baz to clear his name and become the hero that the Corps needs in order to get to the bottom of Hal and Sinestro's disappearance and the Rise of the Third Army!

Collects the entirity of the "Rise of the Third Army" event from GREEN LANTERN ANNUAL #1, GREEN LANTERN #13-16, GREEN LANTERN CORPS #13-16, GREEN LANTERN: NEW GUARDIANS #13-16, RED LANTERNS #13-16, and GREEN LANTERN CORPS ANNUAL #1.
About the Author
Born in 1973, Geoff Johns is Detroit native who brings a Hollywood sense of storytelling to comics. After working as an assistant to Richard Donner (director of "Lethal Weapon, Superman: The Movie," and many other great films), Geoff has brought his considerable writing talent to comics. One of the most prolific and popular writers in comics today, he is currently writing "JSA, Teen Titans," and "Flash" for DC. Johns' work revitalized "Hawkman" after a checkered history and brought new life into the "JSA" title, featuring many of DC's heroes from the Golden Age. His new version of the "Teen Titans" has been released in repeatedly sold-out issues. Among his upcoming projects is a re-launch of DC's popular "Green Lantern" series.