Firehouse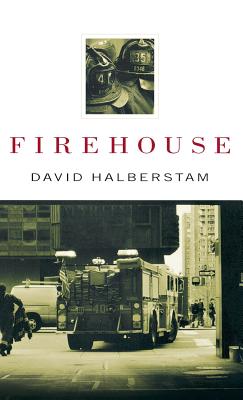 Firehouse
Hyperion Books, Hardcover, 9781401300050, 208pp.
Publication Date: May 29, 2002
* Individual store prices may vary.
Buy Now
or
Shop Local
Enter your zip code below to purchase from an indie close to you.
Description
"If you have tears, prepare to shed them."
--Frank McCourt ""In the firehouse, the men not only live and eat with each other, they play sports together, go off to drink together, help repair one another's houses, and, most important, share terrifying risks; their loyalties to each other must, by the demands of the dangers they face, be instinctive and absolute."" So writes David Halberstam, one of America's most distinguished reporters and historians, in this stunning" New York Times" bestselling book about Engine 40, Ladder 35, located on the West Side of Manhattan near Lincoln Center. On the morning of September 11, 2001, two rigs carrying thirteen men set out from this firehouse: twelve of them would never return. "Firehouse" takes us to the epicenter of the tragedy. Through the kind of intimate portraits that are Halberstam's trademark, we watch the day unfold--the men called to duty while their families wait anxiously for news of them. In addition, we come to understand the culture of the firehouse itself: why gifted men do this; why, in so many instances, they are eager to follow in their fathers' footsteps and serve in so dangerous a profession; and why, more than anything else, it is not just a job, but a calling. This is journalism-as-history at its best, the story of what happens when one small institution gets caught in an apocalyptic day. "Firehouse" is a book that will move readers as few others have in our time.
About the Author
David Halberstam graduated from Harvard, where he had served as managing editor of the daily Harvard Crimson. It was 1955, a year after the Supreme Court outlawed segregation in public schools. Halberstam went south and began his career as the one reporter on the West Point, Mississippi, Daily Times Leader. He was fired after ten months there and went to work for the Nashville Tennessean. When the sit-ins broke out in Nashville in February 1960, he was assigned to the story as principal reporter. He joined the New York Times later that year, winning the Pulitzer Prize in 1964 for his early reports from Vietnam. He has received every other major journalistic award, and is a member of the Society of American Historians.
Praise For Firehouse…
"Graceful and moving."—James Traub, The New York Times Book Review

"Resembles John Hersey's 1946 classic Hiroshima."—USA Today

"Poignant and immediate portrait of a New York firehouse. Halberstam delivers a jolting study in the impermanence of things, the swiftness with which the world can be transformed."—San Francisco Chronicle

"Always clear-eyed and affecting."—Newsweek

"Vividly sketched."—Time Out New York

"A very human face on the tragedy."—Minneapolis Star Tribune

"An understated little gem of a book."—St. Louis Post-Dispatch

"A remarkable study of a tightly knit workplace world and the impact of September 11 upon it."—Washington Times

"His special contribution is to anatomize the culture that incubated and nourished these remarkable public servants."—BookPage