Defending Baltimore Against Enemy Attack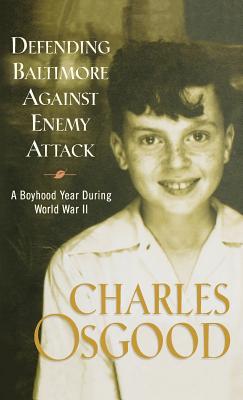 Defending Baltimore Against Enemy Attack
A Boyhood Year During World War II
Hachette Books, Hardcover, 9781401300234, 170pp.
Publication Date: May 12, 2004
* Individual store prices may vary.
Buy Now
or
Shop Local
Enter your zip code below to purchase from an indie close to you.
Description
The year is 1942, and while America is reeling from the first blows of WWII, Osgood is just a nine-year-old boy living in Baltimore. As the war rages somewhere far beyond the boundaries of his hometown, he spends his days delivering newspapers, riding the trolley to the local amusement park, going to Orioles' baseball games, and goofing around with his younger sister. With a sharp eye for details, Osgood captures the texture of life in a very different era, a time before the polio vaccine and the atomic bomb. In his neighborhood of Liberty Heights, gaslights still glowed on every corner, milkmen delivered bottles of milk, and a loaf of bread cost nine cents. Osgood reminisces about his first fist-fight with a kid from the neighborhood, his childhood crush on a girl named Sue, and his relationship with his father, a traveling salesman. He also talks about his early love for radio and how he used to huddle under the covers after his parents had turned off the lights, listening to Superman, The Lone Ranger, The Shadow, and, of course, to baseball games. Defending Baltimore Against Enemy Attack is a gloriously funny and nostalgic slice of American life and a moving look at World War II from the perspective of a child far away from the fighting, but very conscious of the reverberations.
About the Author
Charles Osgood, who has been dubbed CBS News' "poet in residence," writes and anchors The Osgood File four times daily over the CBS Radio Network, and anchors CBS News Sunday Morning. He is the winner of three Emmys and three Peabody Awards. He lives in New Jersey with his wife, Jean. They have five children.