Treat Your Customers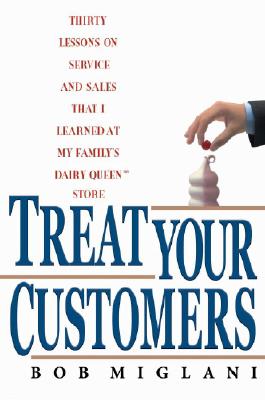 Treat Your Customers
Thirty Lessons on Service and Sales That I Learned at My Family's Dairy Queen Store
Hyperion Books, Hardcover, 9781401301989, 152pp.
Publication Date: June 2006
* Individual store prices may vary.
Shop Local
Enter your zip code below to find indies closest to you.
Description
A successful Fortune 500 corporate executive shares the secrets of great customer service that he learned from working at his family's Dairy Queen(R) store Customer service is the cornerstone of every successful business, and in Treat Your Customers, corporate businessman Bob Miglani reveals winning strategies for sales and service using anecdotes and analogies from his experiences working at his family's Dairy Queen(R) store. Miglani cuts to the essence of what makes great customer service by sharing clear, concise techniques and guidelines for coping with angry customers, minimizing stress, and making customer service providers feel great about doing their jobs. Both charming and educational, Treat Your Customers will appeal to any business owner, manager, or corporate employee who wants to enhance sales, motivate employees, and keep customers coming back.
About the Author
Bob Miglani is senior director at a Fortune 50 Company in New York City, where he has been embracing the chaos for twenty years. He came to the United States in 1979 and helped run his family's Dairy Queen business in New Jersey. His experiences there are the source of his first book, Treat Your Customers.