Eat, Drink, & Weigh Less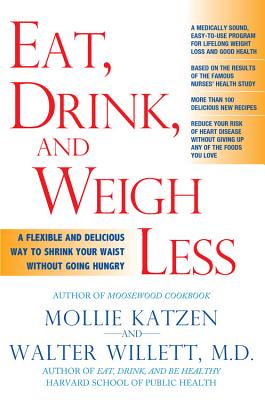 Eat, Drink, & Weigh Less
A Flexible and Delicious Way to Shrink Your Waist Without Going Hungry
Hyperion Books, Paperback, 9781401308926, 282pp.
Publication Date: April 10, 2007
* Individual store prices may vary.
Buy at Local Store
Enter your zip code below to purchase from an indie close to you.
or
Not Currently Available for Direct Purchase
Description
The head of the Department of Nutrition at Harvard and the author of "Moosewood Cookbook" have teamed up to create a new program that will show you how to shrink your waist and keep pounds off--while still eating everything you love
With so many fad diets telling us to eat "only" this or "none" of that, it's no surprise that so many of us believe it's impossible to lose weight while eating a wide variety of delicious foods. But it is possible--and surprisingly simple. "Eat, Drink, and Weigh Less" presents a medically sound, easy-to-use program that paves the way for "lifelong" weight loss and good health.
This isn't a diet that deprives you of "anything." You'll lose weight while eating and drinking the same things you already enjoy, including chocolate and alcohol The secret is "adding" delicious food to your diet and making surprisingly simple changes in what you eat throughout the day. These small moves will add up to a big weight loss.
The Eat, Drink, and Weigh Less eating plan is flexible, adaptable to your lifestyle, and simple to implement. It even features a powerful new way to chart your progress, called the Body Score: The more you raise your Body Score, the more you will lower your weight
While the concept is simple, the science behind it is not. The plan represents years of research conducted by Walter Willett, M.D., the head of the Harvard School of Public Health's Department of Nutrition, including results from the famous Nurses' Health Study. This study scored each of its more than 84,000 participants on food choices, exercise schedule, and body mass--resulting in a number that accurately determined the nurses' risk of heart disease.
Now, for the first time, Dr. Willett has teamed up with bestselling cookbook author Mollie Katzen to adapt this complex study to everyday use. With their Nine Turning Points and more than 100 delicious new recipes, they've created a user-friendly diet plan with fail-safe results. Choose foods according to these nine principles and you'll raise your Body Score--and lower your weight for good.
About the Author
With more than six million books in print, Mollie Katzen is listed by the New York Times as one of the bestselling cookbook authors of all time. A 2007 inductee into the prestigious James Beard Cookbook Hall of Fame, and largely credited with moving healthful food from the "fringe" to the center of the American dinner plate, Mollie has been named by Health magazine as one of the "Five Women Who Changed the Way We Eat."
In addition, she is a charter member of the Harvard School of Public Health Nutrition Roundtable and an inaugural honoree of the Natural Health Hall of Fame. An award-winning illustrator and designer as well as a bestselling cookbook author and popular public speaker, Mollie is best known as the creator of the groundbreaking classics Moosewood Cookbook and The Enchanted Broccoli Forest. Her other books include the children's trilogy Pretend Soup, Honest Pretzels, and Salad People (referred to as the "gold standard" of children's cookbooks) by the New York Times), and a collaboration with Walter Willett, M.D., of Harvard, on Eat, Drink, and Weigh Less.
Since 2003, Mollie Katzen has been an adviser to Harvard University Dining Services, and cocreator of their new Food Literacy Project. This is the first volume of her new Get Cooking series, continuing Mollie's lifelong mission to spread cooking knowledge and food literacy as broadly as possible.
Jorge Chavarro, M.D., Sc.D., earned both master's and doctoral degrees in epidemiology and nutrition at the Harvard School of Public Health, where he is currently a research fellow studying the role of diet and lifestyle on reproductive function.
Walter C. Willett, M.D., Dr.P.H., is the Fredrick John Stare Professor of Epidemiology and Nutrition and chairman of the department of nutrition at the Harvard School of Public Health, as well as a professor of medicine at Harvard Medical School. He is one of the leaders of the influential Nurses' Health Study, as well as the author of "Eat, Drink, and Be Healthy: The Harvard Medical School Guide to Healthy Eating,"
Patrick J. Skerrett is coauthor, with Walter Willett, of "Eat, Drink, and Be Healthy," He is the editor of the "Harvard Heart Letter,"