Nigella Fresh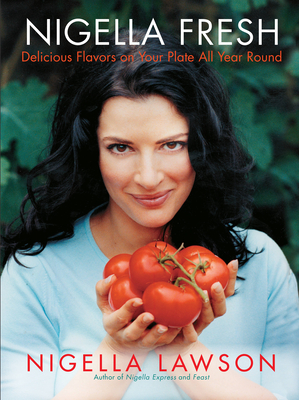 Nigella Fresh
Delicious Flavors on Your Plate All Year Round
Hyperion Books, Paperback, 9781401310424, 279pp.
Publication Date: April 2010
* Individual store prices may vary.
Shop Local
Enter your zip code below to find indies closest to you.
Description
In "Nigella Fresh," Nigella Lawson shows readers how to prolong that warm summer feeling through even the darkest days of winter. Innovative, versatile, and delicious, this is an irresistible and wide-ranging volume full of summery recipes that can be eaten at any time--from succulent Spanish and Italian dishes to the fragrant "mezze" of the Eastern Mediterranean; from roasted vegetables and barbecued sea bass, Moroccan roast lamb, and Mauritian prawn curry, to food that conjures up the traditional strawberries-and-cream feel of an English summer afternoon or Indian-summer evening at home. And to top it all off, there is a fabulous selection of unusual ice creams and melt-in-your-mouth desserts. The constant in the recipes is simplicity, freshness, and enjoyment: easy cooking and easy eating. Written with her characteristic flair and passion, "Nigella Fresh" will delight Nigella's legions of fans.
About the Author
Nigella Lawson is an internationally-renowned chef, journalist, and cooking show host. Her many books of cooking and food writing, for which she has won several awards, include "How to Be a Domestic Goddess, How to Eat, Nigella Bites, Nigella Express, Feast, Nigella Fresh, Nigella Christmas", and "Nigella Kitchen". Her television cookery shows include "Nigella Bites", "Nigella Express", "Forever Summer, Nigella's Kitchen", and more. Her TV shows have been seen worldwide, on BBC and Channel 4 in the UK, and on the Food Network and the Cooking Channel in the US. In 2003, Nigella launched Nigella Lawson's Living Kitchen, a range of kitchen items designed in collaboration with Sebastian Conran, to widespread acclaim in the US. She lives in London.
Michele Cranston is a food editor, caterer and food stylist whose work has appeared in "The New York Times," "Wallpaper" magazine and other publications.
Petrina Tinslay is an acclaimed food photographer whose work has won many awards, including the prestigious James Beard Award.