A Captain's Duty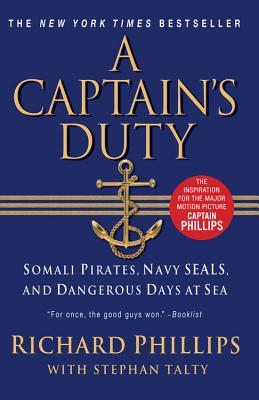 A Captain's Duty
Somali Pirates, Navy SEALs, and Dangerous Days at Sea
Hyperion Books, Paperback, 9781401310448, 286pp.
Publication Date: January 18, 2011
* Individual store prices may vary.
Buy at Local Store
Enter your zip code below to purchase from an indie close to you.
or
Buy Here
Description
"I share the country's admiration for the bravery of Captain Phillips and his selfless concern for his crew. His courage is a model for all Americans."
--President Barack Obama It was just another day on the job for fifty-three-year-old Richard Phillips, captain of the Maersk Alabama, the United States-flagged cargo ship which was carrying, among other things, food and agricultural materials for the World Food Program. That all changed when armed Somali pirates boarded the ship. The pirates didn't expect the crew to fight back, nor did they expect Captain Phillips to offer himself as hostage in exchange for the safety of his crew. Thus began the tense five-day stand-off, which ended in a daring high-seas rescue when U.S. Navy SEALs opened fire and picked off three of the captors. "It never ends like this," Captain Phillips said. And he's right. A Captain's Duty tells the life-and-death drama of the Vermont native who was held captive on a tiny lifeboat off Somalia's anarchic, gun-plagued shores. A story of adventure and courage, it provides the intimate details of this high-seas hostage-taking--the unbearable heat, the death threats, the mock executions, and the escape attempt. When the pirates boarded his ship, Captain Phillips put his experience into action, doing everything he could to safeguard his crew. And when he was held captive by the pirates, he marshaled all his resources to ensure his own survival, withstanding intense physical hardship and an escalating battle of wills with the pirates. This was it: the moment where training meets instinct and where character is everything. Richard Phillips was ready.
About the Author
Richard Phillips was born in Roswell, New Mexico, in 1956. In 1979, he graduated from West Point as an army ranger and served for several years as an officer in the United States Army. In 1989, he graduated with a master of science in physics from the Naval Post Graduate School, completing his thesis work at Los Alamos National Laboratory. Phillips then spent three years as a research associate at the Lawrence Livermore National Laboratory before completing his tour of duty as an army officer. He previously released the popular sci-fi conspiracy epic the Rho Agenda trilogy. Phillips was hailed by bestselling author Orson Scott Card as someone who ?is very quickly going to be very well known as one of the best and most popular writers of near-future sci-fi.? Phillips lives in Phoenix with his lovely wife, Carol.

STEPHAN TALTY is a widely published journalist who has contributed to the New York Times Magazine, GQ, Men s Journal, Time Out New York, Details, and many other publications. He is the author of Escape from the Land of Snows, the best-selling Empire of Blue Water, The Illustrious Dead, and Mulatto America.