Just Who Will You Be?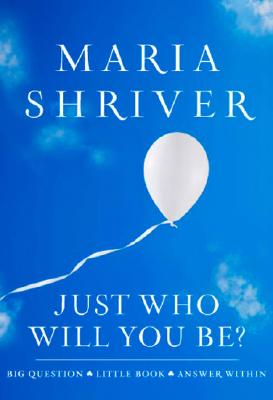 Just Who Will You Be?
Big Question. Little Book. Answer Within.
Hyperion Books, Hardcover, 9781401323189, 91pp.
Publication Date: April 15, 2008
* Individual store prices may vary.
Buy Now
or
Shop Local
Enter your zip code below to purchase from an indie close to you.
Description
"I've learned that asking ourselves not just what we want to be, but who we want to be is important at every stage of our lives, not just when we're starting out in the world. That's because in a way, we're starting out fresh in the world every single day." Just Who Will You Be is a candid, heartfelt, and inspirational book for seekers of all ages. Inspired by a speech she gave, Maria Shriver's message is that what you do in your life isn't what matters. It's who you are. It's an important lesson that will appeal to anyone of any age looking for a life of meaning. In her own life, Shriver always walked straight down her own distinctive path, achieving her childhood goal of becoming "award-winning network newswoman Maria Shriver". But when her husband was elected California's Governor and she suddenly had to leave her job at NBC News, Maria was thrown for a loop. Right about then, her nephew asked her to speak at his high school graduation. She resisted, wondering how she could possibly give advice to kids, when she was feeling so lost herself. But in the end she relented and decided to dig down and dig deep, and the result is this little jewel. Just Who Will You Be reminds us that the answer to many of life's question lie within -- and that we're all works in progress. That means it's never too late to become the person you want to be. Now the question for you is this: Just who will you be?
About the Author
Maria Shriver is a Peabody and Emmy Award-winning journalist and the NYT bestselling author of "Ten Things I Wish I'd Known Before I Went Into the Real World" and the children's books "What's Wrong With Timmy?", "What's Happening to Grandpa?", and "What's Heaven? "In 1983 she became a national reporter at CBS News; she later moved to NBC, where she anchored a variety of news programs and specials as well as covering presidential races and other stories. She lives with her husband, Governor Arnold Schwarzenegger, and their four children in Los Angeles.

The Alzheimer s Association is the leading voluntary health organization in Alzheimercare, support and research.Their mission is to eliminate Alzheimer's disease through the advancement of research; to provide and enhance care and support for all affected; and to reduce the risk of dementia through the promotion of brain health.
Praise For Just Who Will You Be?…
"Maria Shriver is wise, funny and caring--and it all comes through in her winning guide to life, JUST WHO WILL YOU BE? We're lucky to have her show us the way."
-Tom Brokaw

"Maria teaches all of us in the graduate program of life to seek meaning through the joy of following your heart. Just the kind of advice a heart surgeon cherishes."
-Mehmet Oz, M.D.

"Every graduate (of anything) ought to be given a copy of this book along with their diploma. There's wisdom, compassion and truth between these covers. For anyone--at any age."
-Linda Ellerbee, Executive Producer, Nick News

"Maria Shriver is real, vulnerable, humble, honest (just like her book) and not afraid to say so. A lovely book by a lovely person."
-Danielle Steel

"This honest, straight-talking, profound little book is worth a lifetime of reflection. It calls readers of all ages to think again and differently about who they've been in the past and who they want to be now. This book is a life-stopper, a truly universal piece. It's a must for everyone of any age."
-Sister Joan Chittister

"Everything Maria Shriver does is a testament to how deeply she respects and cares about people; all people, all over the world. She really does. She is as charming and funny as she is brilliant and profoundly humane."
-Anne Lamott