One Fifth Avenue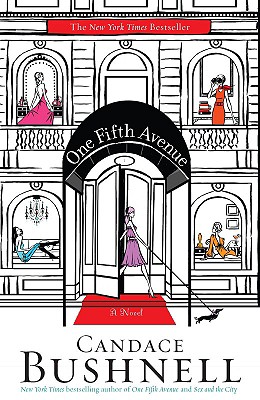 One Fifth Avenue
Hachette Books, Paperback, 9781401341053, 464pp.
Publication Date: April 1, 2016
* Individual store prices may vary.
Buy at Local Store
Enter your zip code below to purchase from an indie close to you.
or
Buy Here
Description
From one of the most consistently astute and engaging social commentators of our day comes another look at the tough and tender women of New York City--this time, through the lens of where they live. One Fifth Avenue, the Art Deco beauty towering over one of Manhattan's oldest and most historically hip neighborhoods, is a one-of-a-kind address, the sort of building you have to earn your way into--one way or another. For the women in Candace Bushnell's new novel, One Fifth Avenue, this edifice is essential to the lives they've carefully established--or hope to establish. From the hedge fund king's wife to the aging gossip columnist to the free-spirited actress (a recent refugee from L.A.), each person's game plan for a rich life comes together under the soaring roof of this landmark building. Acutely observed and mercilessly witty, One Fifth Avenue is a modern-day story of old and new money, that same combustible mix that Edith Wharton mastered in her novels about New York's Gilded Age and F. Scott Fitzgerald illuminated in his Jazz Age tales. Many decades later, Bushnell's New Yorkers suffer the same passions as those fictional Manhattanites from eras past: They thirst for power, for social prominence, and for marriages that are successful--at least to the public eye. But Bushnell is an original, and One Fifth Avenue is so fresh that it reads as if sexual politics, real estate theft, and fortunes lost in a day have never happened before. From Sex and the City through four successive novels, Bushnell has revealed a gift for tapping into the zeitgeist of any New York minute and, as one critic put it, staying uncannily "just the slightest bit ahead of the curve." And with each book, she has deepened her range, but with a light touch that makes her complex literary accomplishments look easy. Her stories progress so nimbly and ring so true that it can seem as if anyone might write them--when, in fact, no one writes novels quite like Candace Bushnell. Fortunately for us, with One Fifth Avenue, she has done it again.
About the Author
Candace Bushnell is the critically acclaimed bestselling author of The Carrie Diaries, Sex and The City, Lipstick Jungle, One Fifth Avenue, 4 Blondes, and Trading Up, which have sold millions of copies. Sex and The City was the basis for the HBO hit show and films of the same name. Lipstick Jungle became a popular television show on NBC. Candace lives in New York City.


Praise For One Fifth Avenue…
"ONE FIFTH AVENUE is a modern comedy of manners -- a landmark novel, if you like. Its observations about money, the Internet, the function of art in society as wellas sex romps, social climbing and snobbery enhance Bushnell's reputation as an astute observer of modern life....Carrie Bradshaw wannabes as well as women (and men) near Bushnell's age -- she turns 50 this year -- will be pulled into this refreshing and highly entertaining novel about the power of money, sex and celebrity."—USA TODAY

"Bushnell...broadens her scope in her latest ode to New York strivers and sophisticates...The fun lies in the author's acute observations about everything from real estate envy to midlife crises."—More

"Where [Bushnell] goes, her army of stilletoed fans follow. You gotta love it: the conflict, the secrets-telling, the peek into the world of the rich and valueless. It all adds up to a juicy summer read."—New York Post

"One Fifth Avenue is all things an escapist read she be: quick and wicked and wry. There's a blown-out bitch to root against, a star-crossed couple to root for, and a Tim Gunn-style best friend who deserves his own book. Great, guiltless fun."—Entertainment Weekly