The Physick Book of Deliverance Dane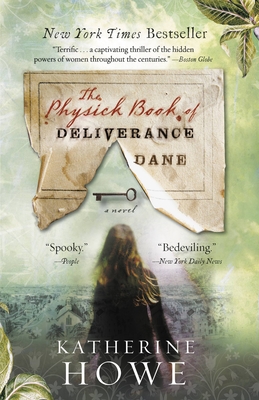 The Physick Book of Deliverance Dane
Voice, Paperback, 9781401341336, 376pp.
Publication Date: April 6, 2010
* Individual store prices may vary.
Buy at Local Store
Enter your zip code below to purchase from an indie close to you.
or
Buy Here
Description
A crime lost to time. A secret buried deep. One book unlocks an unimaginable truth. Salem, Massachusetts, 1681. Fear and suspicion lead a small town to unspeakable acts. Marblehead, Massachusetts, 1991. A young woman is about to discover that she is tied to Salem in ways she never imagined.
About the Author
Katherine Howe's ancestors settled Essex County, Mass. in the 1620s, and stayed there through the twentieth century. Family members included Elizabeth Proctor, who survived the Salem witch trials, and Elizabeth Howe, who did not. Katherine Howe got a Ph.D. in American and New England Studies at Boston University, which included a research seminar on New England witchcraft. The idea for this novel developed while she was studying for her Ph.D. exams, walking her dog through the woods between Marblehead and Salem. She lives in Marblehead, MA with her husband and assorted animals.
Praise For The Physick Book of Deliverance Dane…
"Compulsively readable. . . . The Physick Book of Deliverance Dane is smart, and Howe's research translates into a vividly imagined narrative. The social forces driving Deliverance's life come alive, as do the realities of the not so distant pre-Internet and cellphone realities of Connie's world. The novel is a page-turner, but the characters, not the plot, dominate."
-Denver Post

"I thought I had found another Alice Hoffman as I began Katherine Howe's debut novel, The Physick Book of Deliverance Dane, perhaps a little practical magic overlaying a story of romance. Yes and no. It has definite Hoffman vibes, but with a little Da Vinci Code, Stephen King, and academic discourse thrown in to create a charming and different mix. . . . Howe is masterful."
-Portland Oregonian

"A sensational debut novel . . . carries on every page Howe's unique passion, wit, intelligence, and spirit."
-Matthew Pearl, bestselling author of The Dante Club and The Poe Shadow

"A terrific debut novel . . . a captivating thriller of the hidden powers of women throughout the centuries."
-Boston Globe

"Literary alchemy . . . powerful enough to deliver a charming summer read."
-Christian Science Monitor

"Howe pairs a scholarly search for a missing book with the thrill of spine-tingling witchery."
-Dallas Morning News

"If you need some magic in your life . . . lose yourself in The Physick Book of Deliverance Dane."
-Real Simple

"A devilishly delightful read."
-San Francisco Chronicle

"A witch story that will leave you spellbound . . . Once in a while, a new writer offers up a hypnotic tale of the supernatural that has the publishing world quivering with excitement. In 2005 it was Elizabeth Kostova's The Historian; in 2006 it was Diane Setterfield's The Thirteenth Tale. This summer, The Physick Book is magic."
-USA Today

"This isn't the same old hang-the-sorceror tale. It has a bedeviling twist."
-New York Daily News