Happy Accidents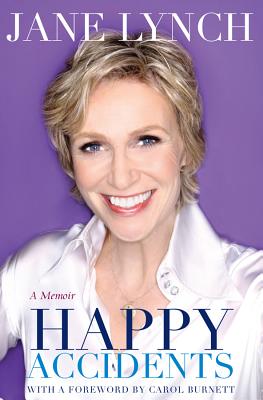 Happy Accidents
Voice, Hardcover, 9781401341763, 304pp.
Publication Date: September 13, 2011
* Individual store prices may vary.
Buy at Local Store
Enter your zip code below to purchase from an indie close to you.
or
Not Currently Available for Direct Purchase
Description
In the summer of 1974, a fourteen-year-old girl in Dolton, Illinois, had a dream. A dream to become an actress, like her idols Ron Howard and Vicki Lawrence. But it was a long way from the South Side of Chicago to Hollywood, and it didn't help that she'd recently dropped out of the school play, The Ugly Duckling. Or that the Hollywood casting directors she wrote to replied that "professional training was a requirement."

But the funny thing is, it all came true. Through a series of happy accidents, Jane Lynch created an improbable--and hilarious--path to success. In those early years, despite her dreams, she was also consumed with anxiety, feeling out of place in both her body and her family. To deal with her worries about her sexuality, she escaped in positive ways--such as joining a high school chorus not unlike the one in Glee--but also found destructive outlets. She started drinking almost every night her freshman year of high school and developed a mean and judgmental streak that turned her into a real-life Sue Sylvester.

Then, at thirty-one, she started to get her life together. She was finally able to embrace her sexuality, come out to her parents, and quit drinking for good. Soon after, a Frosted Flakes commercial and a chance meeting in a coffee shop led to a role in the Christopher Guest movie Best in Show, which helped her get cast in The 40-Year-Old Virgin. Similar coincidences and chance meetings led to roles in movies starring Will Ferrell, Paul Rudd, and even Meryl Streep in 2009's Julie & Julia. Then, of course, came the two lucky accidents that truly changed her life. Getting lost in a hotel led to an introduction to her future wife, Lara. Then, a series she'd signed up for abruptly got canceled, making it possible for her to take the role of Sue Sylvester in Glee, which made her a megastar.

Today, Jane Lynch has finally found the contentment she thought she'd never have. Part comic memoir and part inspirational narrative, this is a book equally for the rabid Glee fan and for anyone who needs a new perspective on life, love, and success.

WITH A FOREWORD BY CAROL BURNETT
About the Author
Jane Lynch currently serves as the faculty leader of the Department of Business, Information Technology, and Enterprise at All Hallows Catholic College in Macclesfield, Cheshire, England. Prior to this appointment, she served as a teacher at Sandbach High School in Cheshire. Her route to the field of education did not follow a traditional path. Her undergraduate degree at Keele University was in law and economics, resulting in a career as a solicitor supported by postgraduate study at Christleton Law College in Chester.
Her interest in working more directly with young people led to a Post-Graduate Certificate in Education in Business Studies (Secondary) at Manchester Metropolitan University, where she later pursued advanced graduate work in educational management. She left the world of law and business to follow her strong interest in education, and the last 21 years of her professional life have been devoted to that focus. Lynch s work in program development in business and enterprise has become increasingly recognized across England, where she has been invited to serve on a number of panels and committees seeking to forge stronger links among schools and the world of business. She was recently provided with a leave from her work at Macclesfield to support educational program planning with the Cheshire County Educational Office.
She has also continued her national role of participating in numerous projects dedicated to developing young people s employment skills. She serves as a consultant in enterprise education in Cheshire; as the leader of the Northwest England Business, Administration, and Finance (BAF) Diploma Network; as the Enterprise Learning Partnership coordinator for Cheshire and Warrington; and as the chair of the BAF Diploma County Forum.
Thursday, Dec 22, 2011
Susan Jane Gilman recommends behind-the-scenes reads about the rich and famous � by a rock star, a hotel concierge, a stuntman and a Brat Packer, all offering backstage passes to their glamorous lives. Entertaining and star-studded, they make for perfect holiday escapism � with a cocktail (or two) in hand. More at NPR.org