The Wisdom of Sam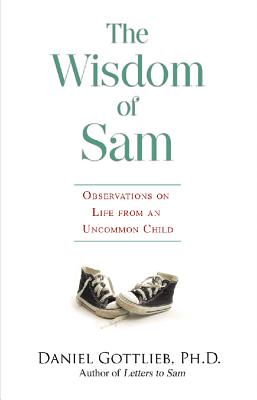 The Wisdom of Sam
Observations on Life from an Uncommon Child
Hay House, Hardcover, 9781401923853, 136pp.
Publication Date: April 1, 2010
* Individual store prices may vary.
Not Currently Available for Direct Purchase
or
Shop Local
Enter your zip code below to purchase from an indie close to you.
Description
      In this heartfelt and generous book, author Daniel Gottlieb shares life lessons taught to him by his eight-year-old grandson, Sam. Readers were first introduced to Sam in Letters to Sam—which has been translated into 15 languages, with more than 50,000 copies sold in the U.S. Now, The Wisdom of Sam continues the extraordinary story of the interaction between a grandfather who is quadriplegic and a grandson who is autistic as they share their discoveries about empathy, compassion, courage, happiness, and the power of laughter. Sam's uncommon perspective on the world—and the remarkable way he expresses himself—are the seeds of inspiration for his grandfather. And the emotional connection between Daniel Gottlieb and his grandson provide a springboard for wonderful moments of reflection, understanding, and humor.
      Sam's candid observations not only teach us what we've forgotten but they also show us how to look at the world through a different lens. Just as Sam's grandfather has found his world view forever changed by the wisdom of his grandson, readers of The Wisdom of Sam will discover unforgettable messages of acceptance, hope, love, and gratitude.
About the Author
Climate change is a boatload of issues for me. It started as a curiosity for me in the mid-eighties. I found myself continually drawn to research showing the negative feedback loops were falling away, while the positive feedback loops remained and in some cases intensifying. Trained as a biologist, I became increasingly concerned, about the potential negative side effects that excessive Greenhouse Gases (GHGs) would have on humans. Then it became obvious that we weren't giving human induced climate change the proper priority in our national agenda. In fact, certain interests were downplaying the event. And that is my first issue with human forcing of the radiative balance: What kind of dirtbags fight the facts to line their pockets--with the misery of others? I found out. Of course that also meant I had to give up my status as a Silicon Valley playboy. Do you have any idea how pissed I was to go from yuppie to earth muffin? Then there was that slap on the side of the face that said I had just fallen off the turnip truck: My first book, "The Galileo Syndrome.," published by Canopy Publishing hit the market in 2004. Foolishly, I thought "The Galileo Syndrome" would make a difference by adding clarity and intelligence to the climate debate. Heck, it was used as a college textbook on environmental philosophy... Ah, so what? The madness of economic inertia drowning important information--and my book--prompted my second book, "The Dialogues of Sancho and Quixote." A satire about crazy people debating environmental topics. My third book, "The Fires of Home," centers on the tipping point and how excess retained energy, by the planet, can irrevocably alter the human experience. Somehow there had to be a way to appeal the humanity of dirtbags. Nope. My forth book "The Dirties" expands into the problems of over population while keeping true to the series. Did you know in some quarters human forcing of the climate is considered a population problem--so a decreased population due to the changing climate isn't a problem. It is a solution! And so ended my notion of appealing to their humanity. The books contain a bit of dark humor. Okay, maybe a lot of it. Then came my blog, "The Climatebull" You really need to read it. It's funny, poignant, and to the point--as in a spear. A transplanted New Yorker (so that's where the attitude comes from), I have lived and worked in Europe and on both coasts.
Friday, Jun 25, 2010
More than 20 years after a car accident left Dr. Dan Gottlieb paralyzed, his young grandson Sam was diagnosed with autism. Gottlieb, a psychologist, started writing his thoughts to his grandson about what it's like to be different -- and what they can both teach the world. More at NPR.org