The Baby Boomer Diet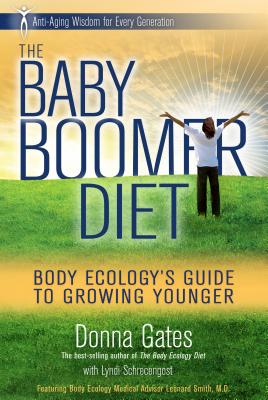 The Baby Boomer Diet
Body Ecology's Guide to Growing Younger
Hay House, Hardcover, 9781401935450, 435pp.
Publication Date: October 11, 2011
* Individual store prices may vary.
Buy at Local Store
Enter your zip code below to purchase from an indie close to you.
or
Buy Here
Description
As baby boomers, we're a generation that has transformed society. How will we redefine aging? This book provides a blueprint for restoring a vital friendship with our bodies and, in turn, renewing our bond with the earth. It shows us how we can live fuller, healthier, more meaningful lives.
A fascinating blend of cutting-edge medical information, practical health advice, and spiritual wisdom,
The Baby Boomer Diet
is relevant for people of any age. Written by
Donna Gates—
theoriginator of Body Ecology,a world-renowned system of healing—this long-awaited book suggests that we don't simply have to age gracefully, we can age with
panache.
What's Inside This Groundbreaking Book:
Anti-aging remedies that will make you feel and look younger
The missing piece to all traditional diet programs
Insight into why we age and how we can prevent it
Little-known wellness secrets that address the stresses and pressures of our modern world
Ways to apply Body Ecology's seven universal principles to the health challenges associated with aging
Superfood recommendations for increased energy, vitality, and disease prevention
About the Author
Ray Sahelian, M.D., is a respected physician and medical writer. He is a regular contributor to "Healthsmart Today," "New Living," "Yoga Times," and "Whole Life Times," and is the author of "Natural Sex Boosters," "Mind Boosters," and "Creatine,"
Donna Gates is a widely acclaimed nutritional consultant, lecturer, and author. She is the author of "The Body Ecology Diet" and "The Stevia Story,"


Praise For The Baby Boomer Diet…
Donna Gates packs every page of The Baby Boomer Diet with health principles and nutrition advice that help rejuvenate your life and allow you to actually grow younger based on the latest breakthrough natural-health technologies. This inspiring book empowers your healing, improves your life experience, and gives you tools to live over 100—all while having 'the best day ever' every single day!
- David Wolfe, creator of The LongevityNOW Program; author of Superfoods: The Food and Medicine of the Future, Eating for Beauty, and Amazing Grace

Donna Gates has always been on the cutting edge of nutrition and wellness. She is a vibrant example of the profound anti-aging potential of nutrient-dense living foods. I urge anyone who is interested in living a long and vibrant life to follow the principles contained in The Baby Boomer Diet.
- Jordan Rubin, founder of Garden of Life; New York Times best-selling author of The Maker's Diet

I love this book! Our national health has become an emergency, and Donna Gates provides the solution. As Boomers, we've pioneered it all, and now we're leading the way in new approaches to aging. Scientifically and clinically based, this book provides a user-friendly, comprehensive handbook for our care and feeding into healthy longevity. Read it and stay young.
- Hyla Cass, M.D., author of 8 Weeks to Vibrant Health

Awesome book! Donna Gates is as incredibly wonderful as she is excessively humble. If you are a Baby Boomer who is tired of hearing the 'same old, same old' and wants vitality of your spirit as well as your body, this book is for you! Donna will teach you to die very 'young'—but very late in life. . . and feeling glad that you made the journey!
- Jacob Teitelbaum, M.D., medical director of the Fibromyalgia and Fatigue Centers nationally; best-selling author of From Fatigued to Fantastic!, Pain Free 1-2-3: A Proven Program for Eliminating Chronic Pain Now, and Beat Sugar Addiction NOW!

Read this book! Donna Gates reveals a new design for living that may change your life. Every page is food for thought, from the repercussions of the products we ingest to their effect on our health, longevity, and physiques. This is a comprehensive, step-by-step, safe, and natural path for wellness and staying young. It deserves your utter attention!
- Richard Stamile, M.D., Orthopedic Surgery and Geriatric Medicine specialist; and Terri Stamile, RN

A few years ago I attended a week long workshop with Donna Gates. It was an eye opening experience as she shared simple but powerful principles for attaining and maintaining a super healthy body. Everyone enjoyed her way of cooking and were delighted to take her recipes and probiotic nutrition home with them. I have been a follower ever since and at 85 am enjoying vibrant health.
- Louise L. Hay, the New York Times best-selling author of You Can Heal Your Life

Body Ecology emphasizes the importance of what we put into our bodies and teaches a way of eating that makes me feel like I am in control of my health and in tune with my body's intuitive needs. Cultured vegetables and coconut kefir have become essentials, not only in my home, but whenever I travel.
- Jessica Biel, Actress

Donna Gates has opened my mind up to new and amazing alternatives and possibilities to healing. Never did I know and fully understand the power food has in regards to healing the body. Not only is the book [The Body Ecology Diet] for a better life, but the food is DELICIOUS! Who knew healthy food could be so good?!
- Tia Mowry, Actress