The Rich and the Rest of Us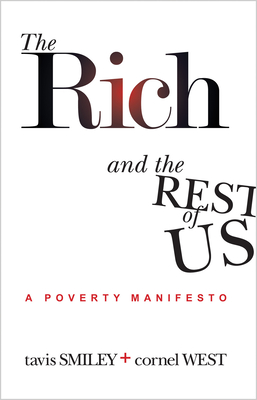 The Rich and the Rest of Us
A Poverty Manifesto
Smileybooks, Paperback, 9781401940638, 222pp.
Publication Date: April 17, 2012
* Individual store prices may vary.
Buy at Local Store
Enter your zip code below to purchase from an indie close to you.
or
Buy Here
Description
Record unemployment and rampant corporate avarice, empty houses but homeless families, dwindling opportunities in an increasingly paralyzed nation--these are the realities of 21st-century America, land of the free and home of the new middle class poor. Award-winning broadcaster Tavis Smiley and Dr. Cornel West, one of the nation's leading democratic intellectuals, co-hosts of Public Radio's "Smiley & West," now take on the "P" word--poverty."The Rich and the Rest of Us" is the next step in the journey that began with "The Poverty Tour: A Call to Conscience." Smiley and West's 18-city bus tour gave voice to the plight of impoverished Americans of all races, colors, and creeds. With 150 million Americans persistently poor or near poor, the highest numbers in over five decades, Smiley and West argue that now is the time to confront the underlying conditions of systemic poverty in America before it's too late.By placing the eradication of poverty in the context of the nation's greatest moments of social transformation-- such as the abolition of slavery, woman's suffrage, and the labor and civil rights movements--ending poverty is sure to emerge as America's 21st -century civil rights struggle.As the middle class disappears and the safety net is shredded, Smiley and West, building on the legacy of Martin Luther King, Jr., ask us to confront our fear and complacency with 12 poverty changing ideas. They challenge us to re-examine our assumptions about poverty in America--what it really is and how to eliminate it now.
About the Author
Tavis Smiley is the host of PBS' Tavis Smiley and Public Radio International's The Tavis Smiley Show. He is also the bestselling author of numerous books.

Cornel West is Class of 1943 University Professor in the Center for African American Studies at Princeton University in Princeton, New Jersey. He is considered one of America's most provocative public individuals and has been a champion for racial justice since childhood. His writing, speaking, and teaching weave together the traditions of the black Baptist church, progressive politics, and jazz. The "New York Times" has praised his "ferocious moral vision."