Hip Hop Speaks to Children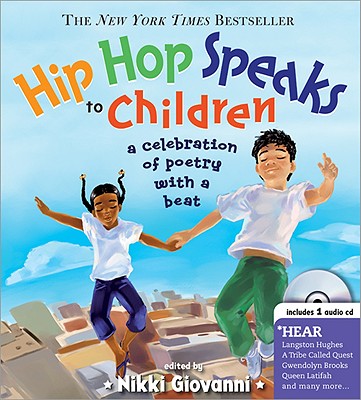 Hip Hop Speaks to Children
A Celebration of Poetry with a Beat [With CD]
Sourcebooks, Hardcover, 9781402210488, 72pp.
Publication Date: October 1, 2008
* Individual store prices may vary.
Buy at Local Store
Enter your zip code below to purchase from an indie close to you.
or
Buy Here
Description
NOW A "NEW YORK TIMES" BESTSELLER AND INCLUDED IN THE BOOKLIST TOP 10 ART BOOKS FOR YOUTH
Our consensus is Hip Hop Speaks to Children is the most essential poetry purchase to make this year.
The poetry is enough.
The illustrations are enough.
The CD is enough.
Together, this book is a treasure of which you cannot get enough.
We shall accomplish much this year. Children will be encouraged to put their words to poetry and beats. Teachers will be encouraged to allow the artists to speak to children.
"--Diane Chen, School Library Journal blog "Practically Paradise""
------------------------------------------------------------------------------------------
Hip Hop Speaks to Children is a celebration of poetry with a beat.
Poetry can have both a rhyme and a rhythm. Sometimes it is obvious; sometimes it is hidden. But either way, make no mistake, poetry is as vibrant and exciting as it gets. And when you find yourself clapping your hands or tapping your feet, you know you've found poetry with a beat
Like "Poetry Speaks to Children," the New York Times Bestselling classic poetry book and CD that started it all, "Hip Hop Speaks to Children" is meant to be the beginning of a journey of discovery.
READ more than 50 remarkable poems and songs
HEAR poetry's rhymes and rhythms from Queen Latifah to Gwendolyn Brooks, Langston Hughes to A Tribe Called Quest and more * Also hear part of Martin Luther Kind's original "I Have a Dream" speech, followed by the remarkable live performance of the speech by Nikki Giovanni, Oni Lasana and Val Gray Ward. * The" Hip Hop Speaks to Children "CD contains more than 30 performances, either by the artists who created them, or as unique interpretations by admiring poets and artists.
DISCOVER Langston Hughes's elegant gospel "The Negro Speaks of Rivers," A Tribe Called Quest's playful "Ham 'N' Eggs," Sterling A. Brown's hard-luck "Long Track Blues," Gwendolyn Brooks's wake-up call "We Real Cool," Kanye West's lovely "Hey Mama," and Martin Luther King Jr.'s awe-inspiring "I Have a Dream."
This is a collection of rhymes and rhythms unlike any other poetry book
Celebrate with remarkable poets, including:
Eloise Greenfield
Mos Def
Lucille Clifton
Oscar Brown Jr.
Tupac Shakur
Maya Angelou
Queen Latifah
Nikki Grimes
Walter Dean Myers
Common
and, of course, Nikki Giovanni
Poems Include:
Ego Tripping
Rapper's Delight
The Negro Speaks of Rivers
Hey Mama
Ham 'N' Eggs
Everything Is Everything
Ladies First
MORE PRAISE FOR HIP HOP SPEAKS TO CHILDREN
"With its archival recordings of poems read by the poets themselves, "Hip Hop"] reminds everyone that poetry springs from an oral tradition."
--"Publishers Weekly"
"This is the way to get children interested in reading and loving poetry. ... A great book for both teachers and parents."
"-- Valerie Lewis, owner of Hicklebee's children's bookstore"
"The poems, the artwork, the CD...all complement each other to create a wonderful experience."
"--Becky Laney, Becky Laney's Books blog"
"Love this book. I think it is a K-8 must-have for classrooms and libraries. Like I said it is packed and it may be (at first) intimidating to young readers. But, once they hear some of the audio, spend time with the illustrations, and experience some of the poetry, I think it will become a favorite."
"--Franki Sibberson, A Year of Reading blog"
"Hip Hop Speaks to Children is a wonderfully composed collection of poems from writers like Eloise Greenfield to late rapper and poet, Tupac Shakur. ... Whether you read poetry or you hear it in a rap song, Giovanni's genius endeavor will inspire children of all ages to have fun while listening to poetry. Rap is poetry, right?"
"--Amy Bowllan, Amy Bowllan's Blog (a School Library Journal Blog)"
"I highly recommend this one for all collections. If the title didn't include the word "children" it'd be an excellent book all the way to high school. My coworkers and I are already talking about doing a Hip Hop poetry story time for our elementary school kids."
"--Jennifer Rothschild, Biblio File blog"
"This is an incredibly powerful, beautiful and important book. Both the book and CD are stellar in quality and diversity. The artwork is amazing and I find myself pulling it out of the shelf over and over for just one more re-read. The grandchildren (ages 3 and 5) love it as well and ask to hear the CD while they pore over the pages and take breaks prancing around the room and singing to the beat. They KNOW all the poems in the book and learned them in a relatively short time, which I attribute to the power of the beat, and all the artists; the poets, the illustrators, the singers and spoken word artists. What an astounding thing when a book moves children so that they LEARN - quickly and enjoyably. This book is for all ages and I can't recommend it highly enough."
"--Gina Ruiz, Blogcritics Magazine"
About the Author
Nikki Giovanni, poet, activist, mother, and professor, is a seven-time NAACP Image Award winner and the first recipient of the Rosa Parks Woman of Courage Award, and holds the Langston Hughes Medal for Outstanding Poetry, among many other honors. The author of twenty-eight books and a Grammy nominee for The Nikki Giovanni Poetry Collection, she is the University Distinguished Professor of English at Virginia Tech in Blacksburg, Virginia.

Kristen Balouch isan award-winning author and illustrator of "The Mystery Bottle, The King and the Three Thieves, " "Ghost Catcher: A Bengali Tale, " and "Listen to the Storyteller: A Trio of Musical Tales from Around the World". She was a "Publishers Weekly" Flying Start, has received the Erza Jack Keats New Illustrator Award, and her books have been selected asa Golden Kite Illustration Honor Book, a CCBC Best Book of the Year, a Bank Street College Best Book of the Year, and a Charlotte Zolotow Commended Book. She lives with her family in Brooklyn, New York, and is on the web at www.kristenbalouch.com.

Michele Noiset was born with a crayon in hand and spent her childhood years learning to use it. Attending the Rhode Island School of Design helped her refine her skills. Since then, her illustrations have graced a wide array of products including games, puzzles, and books. At Christmas, she bounces around the country visiting her mom, six siblings, and countless in-laws.