Poetry Speaks Who I Am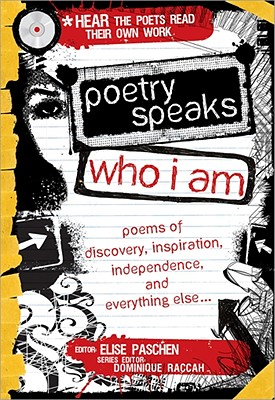 Poetry Speaks Who I Am
Poems of Discovery, Inspiration, Independence, and Everything Else... [With CD (Audio)]
Sourcebooks, Hardcover, 9781402210747, 136pp.
Publication Date: March 1, 2010
* Individual store prices may vary.
Buy at Local Store
Enter your zip code below to purchase from an indie close to you.
or
Buy Here
Description
Poetry Speaks Who I Am is filled with more than 100 remarkable poems about you, who you are, and who you are becoming. Dive in-find the poem you love, the one that makes you angry, the one that makes you laugh, the one that knocks the wind out of you, and become a part of Poetry Speaks Who I Am by adding your own inside the book.
Poetry can be life altering. It can be gritty and difficult. It can be hilarious or heart-breaking. And it's meant to be experienced, so we've included a CD on which you'll hear 44 poems, 39 of which are original recordings-you'll only find them here. You'll hear poets both classic and contemporary, well-known and refreshingly new, including:
--Dana Gioia expresses the hunger of a "Vampire's Serenade"
--Elizabeth Alexander waits for that second kiss in "Zodiac"
--Langston Hughes flings his arms wide in "Dream Variations"
--Marilyn Nelson reads to her class in "How I Discovered Poetry"
--Paul Muldoon's poem "Sideman," brought loudly to life by the band Rackett
--And 39 more poems that are immediate and vibrant
From Lucille Clifton's "Here Yet Be Dragons" to Edgar Allan Poe's "Annabel Lee" to "Tia Chucha," by Luis J. Rodriguez, Poetry Speaks Who I Am is a collection that is dynamic, accessible, challenging, classic, edgy, and ultimately not quite perfect. Just like you. If you're lucky, it'll serve as a gateway to a lifetime lived with poetry. At the very least, it'll be a good time. Dive in, and happy hunting.
About the Author
Elise Paschen, executive director of the Poetry Society of America (1988-2001) and co-founder of Poetry in Motion, lives in Chicago.

Dominique Raccah is founder, president, and publisher of Sourcebooks, a leading independent publisher outside of Chicago. Today Sourcebooks publishes nonfiction, fiction, and poetry. She is the series editor of Poetry Speaks and the Sourcebooks Shakespeare.

Elizabeth Alexander was born in New York City and grew up in Washington, DC. Her collections of poetry include American Sublime, Antebellum Dream Book, The Venus Hottentot, and Body of Life. Her poems, short stories, and critical writing have been widely published in such journals and periodicals as the Paris Review, American Poetry Review, The Village Voice, and The Washington Post. She teaches in the English and African American Studies Departments at Yale University.
Thursday, Apr 22, 2010
Poetry Speaks Who I Am is a collection of poems intended not "for parents, for children, for classroom study or for required memorization," says editor Elise Paschen. It's for tweens and young teens, and includes poems about school, cars and the horror of shopping for your first bra. More at NPR.org