Regency Buck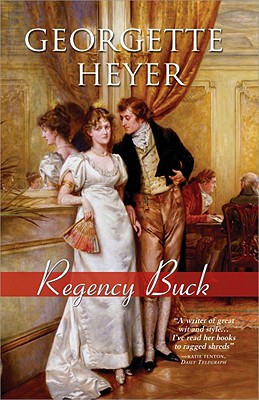 Regency Buck
Sourcebooks Casablanca, Paperback, 9781402213496, 392pp.
Publication Date: August 1, 2008
* Individual store prices may vary.
Buy at Local Store
Enter your zip code below to purchase from an indie close to you.
or
Buy Here
Description
Celebrate the 80th birthday of Regency Romance with great books from Sourcebooks Casablanca
"An altogether unsatisfactory arrangement"
After their father's death, Miss Judith Taverner and her brother Peregrine travel to London to meet their guardian, Lord Worth, expecting an elderly gentleman. To their surprise and utter disgust, their guardian is not much older than they are, doesn't want the office of guardian any more than they want him, and is determined to thwart all their interests and return them to the country.
"With altogether too many complications"
But when Miss Taverner and Peregrine begin to move in the highest social circles, Lord Worth cannot help but entangle himself with his adventuresome wards...
What Reviewers Say About Regency Buck:
"Clever "
Library Journal
"Georgette Heyer is unbeatable."
Sunday Telegraph
"Light and frothy, in the vein of the author's other Regency novels, this follows the fortunes of Miss Judith Taverner and her brother, Sir Peregrine. A good introduction to Heyer's period stories..."
The Booklist
"Reading Georgette Heyer is the next best thing to reading Jane Austen."
Publishers Weekly
What Readers Say About Regency Buck:
"A writer of great wit and style... I've read her books to ragged shreds"
Katie Fenton, Daily Telegraph
"The conversation sparkles, the characters are real, and the descriptions stand before you. Can't miss it."
"It makes you believe in love all over again."
"Wonderful characters, elegant, witty writing, perfect period detail, and rapturously romantic. Georgette Heyer achieves what the rest of us only aspire too."
Katie Fforde
"Wholly captivating "
"I have read all of Georgette Heyer's books, and Regency Buck remains my favorite-after a few dozen readings The mysterious plot, the wonderful dialogue, the splendid Regency settings, the chemistry between the impulsive heroine and the sardonic hero-all these add up to a Regency masterpiece and the ultimate rainy night comfort read "
"Georgette Heyer has no equal when it comes to that wonderful brand of Regency fun and laughter. Her research is so true to that age I feel as though I am riding in Hyde Park with the characters, or on the battlefield at Waterloo, Regency Buck lead me to read An Infamous Army and many of her other wonderful books.
About the Author
Georgette Heyer's novels have charmed and delighted millions of readers for decades. English Heritage has awarded Georgette Heyer one of their prestigious Blue Plaques, designating her Wimbledon home as the residence of an important figure in British history. She was born in Wimbledon in August 1902. She wrote her first novel, The Black Moth, at the age of seventeen to amuse her convalescent brother; it was published in 1921 and became an instant success.

Heyer published 56 books over the next 53 years, until her death from lung cancer in 1974. Her last book, My Lord John, was published posthumously in 1975. A very private woman, she rarely reached out to the public to discuss her works or personal life. Her work included Regency romances, mysteries and historical fiction. Known as the Queen of Regency romance, Heyer was legendary for her research, historical accuracy and her extraordinary plots and characterizations. She was married to George Ronald Rougier, a barrister, and they had one son, Richard.
Friday, Jul 23, 2010
Author Helen Simonson risks her literary pretensions to admit a lifelong secret attraction to the Regency romance novels of Georgette Heyer. The dampened muslin dresses, the highly polished boots -- for her, nothing beats these tales of heroines who require a man with a firm hand on the bridle. More at NPR.org