The Grand Sophy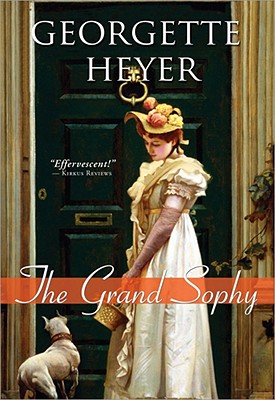 The Grand Sophy
Sourcebooks Casablanca, Paperback, 9781402218941, 372pp.
Publication Date: July 1, 2009
* Individual store prices may vary.
Buy at Local Store
Enter your zip code below to purchase from an indie close to you.
or
Buy Here
Description
A New York Times Bestseller Celebrate the 80th birthday of Regency Romance with great books from Sourcebooks Casablanca "Sophy grabs you and takes you on a ride you don't want to end. With fabulous characters, zany laugh-out-loud moments, and the need to see just what she will come up with next."-Nelaine, Amazon.com Reviewer
When Sir Horace Stanton-Lacy is ordered to South America on Diplomatic Business he parks his only daughter, Sophy, with his sister in Berkeley Square. Forward, bold, and out-spoken, Sophy sweeps in and immediately takes ton by storm.
Upon her arrival, Sophy can see that her cousins are in a sad tangle: Ceclia is in love with a poet, Charles is engaged to a dour bluestocking, her uncle is of no use at all, and the younger children are in desperate need of some fun and freedom. They all need her help and it's providential that Sophy arrives when she does.
Utterly hilarious and completely endearing, The Grand Sophy is a fan favorite from The Queen of Regency Romance. Fans of Jane Austen, Julia Quinn, and Eloisa James will be delighted by Sophy, the outrageous lengths she goes to solve everyone else's problems, and the surprises in store for everyone
Other Regency Romances from Georgette Heyer:
Frederica a woman seeking security for her family finds love where, and when, she least expected it
Sylvester-She meets none of his requirements for a wife. He is the chief villain in her novel.
Cotillion- A sham betrothal isn't the only thing that gets Kitty and Freddy into trouble, but it's definitely the beginning.What readers are saying about The Grand Sophy
"This is one of the funniest, most historically accurate and endearing Regency romances I have ever read "
"I grinned and giggled many times at the antics of these characters, loving even those bumbling fools at which we are meant to scoff."
"This book was a madcap delight."What reviewers are saying about The Grand Sophy
"The Grand Sophy was an exciting, charming read. The characters grab you and don't let go." Anna's Book Blog
"Fun, engaging and hilarious, I cannot recommend it more highly. Sophy is a devilishly fine girl." AustenProse
"The Grand Sophy is a very entertaining Regency romance with wonderfully eccentric characters and a very humorous plot."-Once Upon a RomanceWhat everyone has to say about the Queen of Regency Romance Georgette Heyer
"Reading Georgette Heyer is the next best thing to reading Jane Austen."Publishers Weekly
"Georgette Heyer was one of the great protagonists of the historical novel in the post-war golden age of the form. Her regency romances are delightful light reading..."Philippa Gregory
" Heyer's] characters are witty and beyond charming, her prose is flawless and lighthearted, and her historical detail is immaculate."-Read All Over Reviews
"Georgette Heyer is unbeatable." -Sunday Telegraph.
About the Author
Georgette Heyer's novels have charmed and delighted millions of readers for decades. English Heritage has awarded Georgette Heyer one of their prestigious Blue Plaques, designating her Wimbledon home as the residence of an important figure in British history. She was born in Wimbledon in August 1902. She wrote her first novel, The Black Moth, at the age of seventeen to amuse her convalescent brother; it was published in 1921 and became an instant success.

Heyer published 56 books over the next 53 years, until her death from lung cancer in 1974. Her last book, My Lord John, was published posthumously in 1975. A very private woman, she rarely reached out to the public to discuss her works or personal life. Her work included Regency romances, mysteries and historical fiction. Known as the Queen of Regency romance, Heyer was legendary for her research, historical accuracy and her extraordinary plots and characterizations. She was married to George Ronald Rougier, a barrister, and they had one son, Richard.