Hailey Twitch and the Great Teacher Switch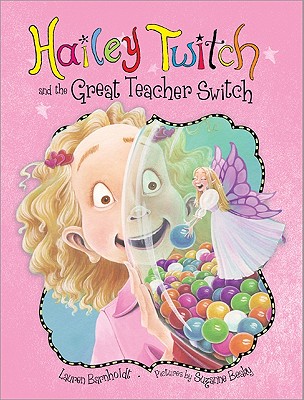 Hailey Twitch and the Great Teacher Switch
Sourcebooks Jabberwocky, Paperback, 9781402224454, 153pp.
Publication Date: November 2010
* Individual store prices may vary.
Shop Local
Enter your zip code below to find indies closest to you.
Description
In this follow-up to "Hailey Twitch is Not a Snitch," Hailey is feeling cranky because her teacher is out with the chicken pox, which means no first grade play. Of course the 7-year-old mastermind and her invisible friend, Maybelle, have a plan. Illustrations.
About the Author
Lauren Barnholdt is the author of the teen novels "The Thing About the Truth", " Sometimes It Happens", "One Night That Changes Everything", " Two-way Street", "Right of Way", and "Watch Me". She is also the author of the middle grade novels "The Secret Identity of Devon Delaney", " Devon Delaney Should Totally Know Better", " Four Truths and a Lie", " Rules for Secret-Keeping", " Fake Me a Match", and the Girl Meets Ghost series. She lives in Waltham, Massachusetts. Visit her at LaurenBarnholdt.com.

Suzanne Beaky studied illustration at Columbus College of Art and Design in Ohio. Her award-winning illustrations are commissioned by children's book, magazine and educational publishers worldwide. She now lives with her husband in Kirksville, Missouri. Visit suzannebeaky.com.