Picture the Dead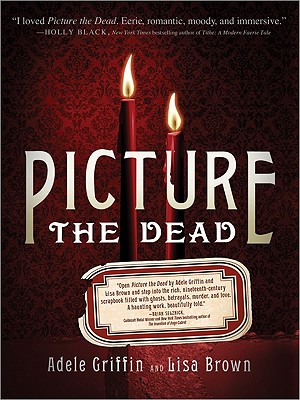 Picture the Dead
Sourcebooks Fire, Hardcover, 9781402237126, 262pp.
Publication Date: May 1, 2010
* Individual store prices may vary.
Buy at Local Store
Enter your zip code below to purchase from an indie close to you.
or
Not Currently Available for Direct Purchase
Description
A ghost will find his way home.
Jennie Lovell's life is the very picture of love and loss. First she is orphaned and forced to live at the mercy of her stingy, indifferent relatives. Then her fiance falls on the battlefield, leaving her heartbroken and alone. Jennie struggles to pick up the pieces of her shattered life, but is haunted by a mysterious figure that refuses to let her bury the past.
When Jennie forms an unlikely alliance with a spirit photographer, she begins to uncover secrets about the man she thought she loved. With her sanity on edge and her life in the balance, can Jennie expose the chilling truth before someone-or something-stops her?
Against the brutal, vivid backdrop of the American Civil War, Adele Griffin and Lisa Brown have created a spellbinding mystery where the living cannot always be trusted and death is not always the end.
Praise for Picture the Dead
"A tour de force, a remarkable feat of visual and verbal storytelling, as playful as it is serious, as haunting as it is delightful."
-Michael Chabon, Pulitzer Prizewinning novelist
"Love story, mystery, ghost story...Picture the
Dead is a gripping, gorgeously graphic novel about a girl who risks everything...Jennie's voice and the pictures she shows us bring this swift, wonderfully chilling story to life."
-Kit Reed, author of The Night Children
"I loved Picture the Dead. Eerie, romantic, moody, and immersive. A beautifully illustrated gothic delight "
-Holly Black, New York Times bestselling author of Tithe: A Modern Faerie Tale.
About the Author
Adele Griffin (b. 1970) is a critically lauded author of children's and young adult fiction. Born in Philadelphia, she began writing after college, when a job at a children's publishing house introduced her to the world of young adult literature. She drew praise for her first novel, "Rainy Season" (1996), a heartfelt portrayal of a young American girl's life in the Panama Canal Zone in the late 1970s. In books like "Sons of Liberty" (1997) and "Amandine" (2001), she continued to explore the sometimes harsh realities of family life, and become known for intuitive, honest, and realistic fiction. Over the past several years, Griffin has won a number of awards, including National Book Award nominations for "Sons of Liberty" (1997) and "Where I Want to Be" (2005). Her books are regularly cited on ALA Best and ALA Notable lists. A number of her novels, such as the four-book Witch Twins series, introduce an element of lighthearted fantasy. Griffin lives with her family in Brooklyn, New York.

Lisa Brown is the "New York Times" bestselling illustrator of "How To Be", "Sometimes You Get What You Want", and the "New York Times" bestselling book "The Latke Who Couldn't Stop Screaming". She lives in San Francisco with her husband and son.