The Four Corners of the Sky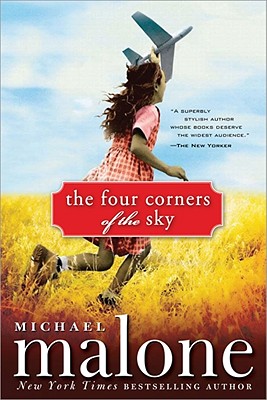 The Four Corners of the Sky
Sourcebooks Landmark, Paperback, 9781402237683, 544pp.
Publication Date: April 1, 2010
* Individual store prices may vary.
Buy at Local Store
Enter your zip code below to purchase from an indie close to you.
or
Not Currently Available for Direct Purchase
Description
In small towns between the North Carolina Piedmont and the coast the best scenery is often in the sky. On flat sweeps of red clay and scrub pine the days move monotonously, safely, but above, in the blink of an eye, dangerous clouds can boil out of all four corners of the sky...The flat slow land starts to shiver and anything can happen.
In such a storm, on Annie Peregrine's seventh birthday, her father gave her the airplane and minutes later drove out of her life. Thus begins an enchanting novel that bursts with energy from the first pages, and sweeps you off on a journey of unforgettable characters, hilarious encounters, and haunting secrets.
The Four Corners of the Sky is master storyteller Michael Malone's new novel of love, secrets, and the mysterious bonds of families. Malone brings characters to life as only he can, exploring the questions that defy easy answers: Is love a choice or a calling? Why do the ties of family bind so tightly? And is forgiveness a gift to others...or a gift we give ourselves?
Praise for The Four Corners of the Sky 'There's humor and action aplenty, but Four Corners is also a warm-hearted look at how we love and forgive. Five hundred and forty-four pages never seemed so short."
People magazine 4-Star Review
"Devoted Michael Malone fans have been waiting more than twenty years for another Handling Sin, perhaps the greatest road novel since Tom Jones. The wait is over..."
Bill Ott, editor-in-chief, Booklist
"Secrets and intrigues among the honeysuckle: a sun-washed yarn of the New South, affectionately told."
-Kirkus starred review
"The Four Corners of the Sky is the best thing I have read in years and you can imagine how much I read. Truly, I couldn't put it down. I loved it."
Kathy Ashton, The King's English Bookshop
BONUS READING GROUP GUIDE INCLUDED
About the Author
Michael Malone is the author of ten novels, a collection of short stories, and two works of nonfiction. Educated at Carolina and at Harvard, he is now a professor in Theater Studies at Duke University. Among his prizes are the Edgar, the O. Henry, the Writers Guild Award, and the Emmy. He lives in Hillsborough, North Carolina, with his wife.