My Very Unfairy Tale Life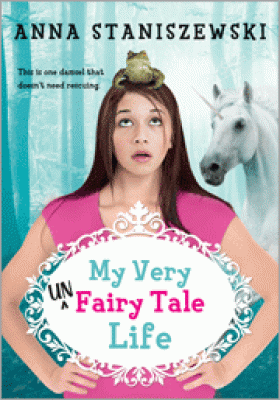 My Very Unfairy Tale Life
Sourcebooks Jabberwocky, Paperback, 9781402259463, 198pp.
Publication Date: November 1, 2011
* Individual store prices may vary.
Buy at Local Store
Enter your zip code below to purchase from an indie close to you.
or
Buy Here
Description
You know all those stories that claim fairies cry sparkle tears and elves travel by rainbow? They're lies. All lies.
I've spent my life as an official adventurer. I travel across enchanted kingdoms saving magical creatures and fighting horrible beasts that most of you think are only myths and legends. I've never had a social life. My friends have all forgotten me. And let's not even talk about trying to do my homework. So -- I'm done I'm tired and I want to go back to being a normal girl. But then along comes "Prince Charming" asking for help, and, well, what's a tired girl like me supposed to do?
"Jenny is an adventurer I'd definitely want in my corner if my life ever took a wrong turn from Happily Ever After." -- Helene Boudreau, author of Real Mermaids Don't Wear Toe Rings
"Readers will laugh their way through the ups and downs of Jenny's many (mis)adventures." -- Jennifer A. Nielsen, author of Elliot and the Goblin War
About the Author
Anna Staniszewski lives outside of Boston, MA with her husband and their adopted black Lab, Emma. She was named the 2006-2007 Writer-in-Residence at the Boston Public Library. When she's not writing, Anna spends her time teaching, reading, and challenging unicorns to games of hopscotch. You can visit her at www.annastan.com.