Reporting the Revolutionary War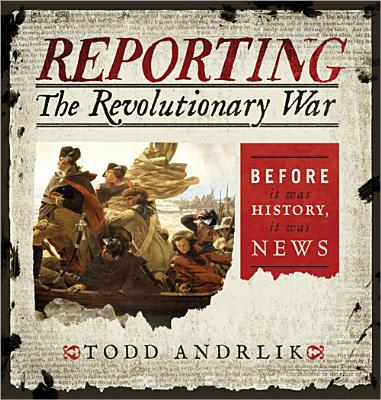 Reporting the Revolutionary War
Before It Was History, It Was News
Sourcebooks, Hardcover, 9781402269677, 400pp.
Publication Date: November 1, 2012
* Individual store prices may vary.
Buy Now
or
Shop Local
Enter your zip code below to purchase from an indie close to you.
Description
"This is 'you are there' history at its best... Reporting the Revolutionary War] lets us see and feel how events unfolded for the people who lived them."--American History
For the colonists of the new world, the years of the American Revolution were a time of upheaval and rebellion. History boils it down to a few key events and has embodied it with a handful of legendary personalities. But the reality of the time was that everyday people witnessed thousands of little moments blaze into an epic conflict-for more than twenty years. Now, for the first time, experience the sparks of revolution the way the colonists did--in their very own town newspapers and broadsheets. Reporting the Revolutionary War is a stunning collection of primary sources, sprinkled with modern analysis from 37 historians. Featuring Patriot and Loyalist eyewitness accounts from newspapers printed on both sides of the Atlantic, readers will experience the revolution as it happened with the same immediacy and uncertainty of the colonists.
The American newspapers of the eighteenth century fanned the flames of rebellion, igniting the ideas of patriotism and liberty among average citizens who had never before been so strongly united. Within the papers, you'll also read the private correspondence and battlefield letters of the rebels and patriots who grabbed the attention of each and every colonist and pushed them to fight for freedom and change. From one of America's leading Revolutionary War newspaper archivists, Todd Andrlik, and guided by scores of historians and experts, Reporting the Revolutionary War brings you into the homes of Americans and lets you see through their eyes the tinderbox of war as it explodes.
"The story of the battle for independence unlike any version that has been told." --Military Review
About the Author
Todd Andrlik is curator, historian and publisher of RagLinen.com, an online museum and educational archive of historically significant newspapers dating back to the 16th century. He single-handedly built one of the largest collections of American Revolution-era newspapers. Todd Andrlik is vice president of marketing and PR at one of the nation's largest commercial construction firms.