Cowboy Seeks Bride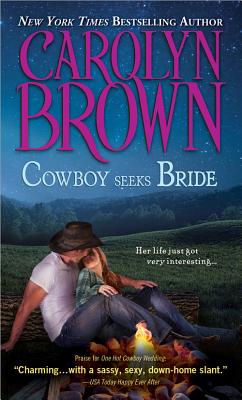 Cowboy Seeks Bride
Sourcebooks Casablanca, Mass Market Paperbound, 9781402270215, 375pp.
Publication Date: August 1, 2013
* Individual store prices may vary.
Shop Local
Enter your zip code below to find indies closest to you.
Description
Book 7 in the Spikes & Spurs Series
He's Tough as Nails and Ready to Ride...She's Way Out of Her Element
Rancher Dewar O'Donnell is just an old-fashioned cowboy at heart, and he can't wait to reenact the historic Chisholm Trail ride with his buddies. The trial-run cattle drive for a reality TV show sounds like a great time-until H.B. McKay pulls up in her slick red sports car.
Haley McKay is a feisty, high-powered businesswoman with the power suit and stiletto heels to prove it. She's keen to research her company's hot new idea for a reality TV show-but mount up with a bunch of modern-day cowboys? Are they kidding?
It's too late to back out now, so Haley sets out to prove that it will take more than snakes, storms, and stampedes to make her back down.
Besides, sleeping under the stars with Dewar O'Donnell could prove mighty interesting.
Spikes & Spurs Series
Love Drunk Cowboy (Book 1)
Red's Hot Cowboy (Book 2)
Darn Good Cowboy Christmas (Book 3)
One Hot Cowboy Wedding (Book 4)
Mistletoe Cowboy (Book 5)
Just a Cowboy and His Baby (Book 6)
Cowboy Seeks Bride (Book 7)
Praise for Bestselling Contemporary Western Romances by Carolyn Brown:
"An old-fashioned love story told well... A delight."-RT Book Reviews, 4 Stars
"Sizzling hot and absolutely delectable."-Romance Junkies
"Funny, frank, and full of heart... One more welcome example of Brown's Texas-size talent for storytelling."-USA Today Happy Ever After
"Alive with humor... Another page-turning joy of a book by an engaging author."-Fresh Fiction.
About the Author
Carolyn Brown is a New York Times and USA Today bestselling author and a RITA finalist. Her books include historical romance, contemporary romance, cowboy romance, and country music mass-market paperbacks. She and her husband have three grown children and enough grandchildren to keep them young. When she s not writing, she likes to sit in her gorgeous backyard with her cats and watch them protect the yard from crickets, locusts, and spiders. She resides in Davis, Oklahoma.