The Math Book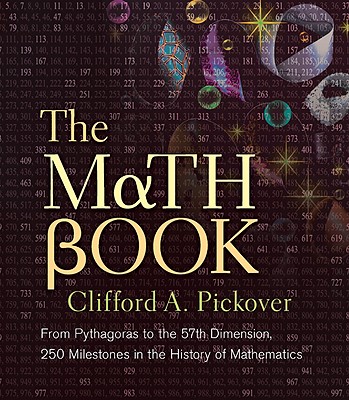 The Math Book
From Pythagoras to the 57th Dimension, 250 Milestones in the History of Mathematics
Sterling, Hardcover, 9781402757969, 527pp.
Publication Date: September 1, 2009
* Individual store prices may vary.
Buy at Local Store
Enter your zip code below to purchase from an indie close to you.
or
Not Currently Available for Direct Purchase
Description
Math's infinite mysteries and beauty unfold in this follow-up to the best-selling "The Science Book." Beginning millions of years ago with ancient ant odometers and moving through time to our modern-day quest for new dimensions, it covers 250 milestones in mathematical history. Among the numerous delights readers will learn about as they dip into this inviting anthology: cicada-generated prime numbers, magic squares from centuries ago, the discovery of pi and calculus, and the butterfly effect. Each topic gets a lavishly illustrated spread with stunning color art, along with formulas and concepts, fascinating facts about scientists lives, and real-world applications of the theorems.
About the Author
Clifford A. Pickover received his Ph.D. from Yale University and is the author of over twenty highly-acclaimed books on topics such as computers and creativity, art, mathematics, black holes, human behavior and intelligence, time travel, alien life, and science fiction. Pickover is a prolific inventor with dozens of patents, is the associate editor for several journals, the author of colorful puzzle calendars, and puzzle contributor to magazines geared to children and adults. The Los Angeles Times recently wrote, 'Pickover has published nearly a book a year in which he stretches the limits of computers, art, and thought.' Wired magazine wrote, 'Bucky Fuller thought big, Arthur C. Clarke thinks big, but Cliff Pickover outdoes them both.' Pickover's computer graphics have been featured on the cover of many popular magazines and on TV shows. His web site, www.pickover.com, has received over a half-million visits.