Down at the Dino Wash Deluxe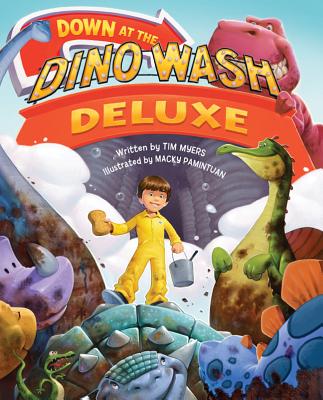 Down at the Dino Wash Deluxe
Sterling Children's Books, Hardcover, 9781402777981, 40pp.
Publication Date: April 2013
* Individual store prices may vary.
Shop Local
Enter your zip code below to find indies closest to you.
Description
A rollicking romp around an old fashioned car wash where DINOSAURS are the customers How can a dinosaur stay dirt-free in the city? Welcome to the Dino Wash Deluxe, where dinos go to get soaped, scrubbed, and spotlessly clean. The Dino Wash handles it all: scales, spikes, wings, even frills and horns. BUT WAIT There's a new customer in town: a T. rex with sharp teeth, long claws, and a mighty mean personality. What will happen when T. rex shows up? Filled with dinosaur facts and fun, this hilarious picture book reminds children that tough guys might not be as scary as they seem.
About the Author
TIM MYERS is the author of numerous books for young readers, including the acclaimed NEW YORK TIMES bestseller BASHO AND THE FOX. Of GOOD BABIES, he says, "Until she was two, my daughter never slept longer than three hours at a time. This almost turned her mother and me into trolls -- but Cassie turned out wonderful! I think patience with children is at the heart of what it means to be civilized."
Kelly Murphy has written and illustrated several books for children and is the illustrator of LOONY LITTLE by Dianna Hutts Aston. She says she had many an inspiration for GOOD BABIES as she's "of a trollish nature and known to munch on polliwogs from time to time."
Macky Pamintuan is an accomplished artist who lives in the Philippines with his wife, Aymone; their baby girl, Alison; and a West Highland white terrier named Winter.
Praise For Down at the Dino Wash Deluxe…
"An adorably round-faced little boy in yellow coveralls is readers' guide to the Dino Wash Deluxe, and the narration is delightfully kidlike . . . Pamintuan's artwork ably matches the text, each brilliantly colored dinosaur a distinct individual. Perspective, size, body language and facial expression all play a role in capturing the story's moods . . . A romping-stomping choice for dinosaur lovers and those similarly afraid of soap in their eyes." —Kirkus