Tiger's Destiny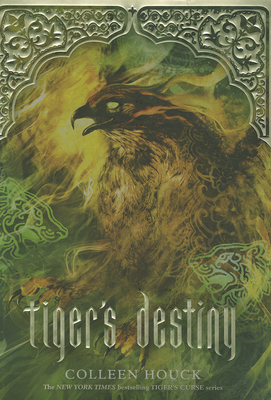 Tiger's Destiny
Splinter, Hardcover, 9781402798436, 447pp.
Publication Date: September 4, 2012
* Individual store prices may vary.
Buy Now
or
Shop Local
Enter your zip code below to purchase from an indie close to you.
Description
With three of the goddess Durga's quests behind them, only one prophecy now stands in the way of Kelsey, Ren, and Kishan breaking the tiger's curse. But the trio's greatest challenge awaits them: A life-endangering pursuit in search of Durga's final gift, the Rope of Fire, on the Andaman Islands in the Bay of Bengal.It's a race against time--and the evil sorcerer Lokesh--in this eagerly anticipated fourth volume in the bestselling "Tiger's Curse" series, which pits good against evil, tests the bonds of love and loyalty, and finally reveals the tigers' true destinies once and for all.A smart phone tag code on the back cover links readers to the series website.
About the Author
Colleen Houck s debut novel, Tiger s Curse, is a New York Times and Publishers Weekly bestseller. Tiger s Quest is the second volume in her popular Tiger s Curse series. Colleen lives in Salem, Oregon, with her husband and a white stuffed tiger. To find out more, visit www.tigerscursebook.com.
Praise For Tiger's Destiny…
PRAISE FOR Tiger's Voyage:"Epic, grand adventure rolled into a sweeping love story . . ." --Sophie Jordan, author of Firelight"An epic love triangle that kept me eagerly turning the pages!" --Alexandra Monir, author of Timeless PRAISE FOR Tiger's Quest:
". . . shocking, heart-rending, soul-tearing. . ." --Kirkus Reviews PRAISE FOR Tiger's Curse:
"Tiger's Curse is magical!" --Becca Fitzpatrick, New York Times bestselling author of Hush, Hush "Action, history, poetry, romance, magic--everything you could ever want." --RT Book Reviews "Houck's debut YA fantasy, which she self-published in 2009, is richly imagined…" --Publishers Weekly "Houck…is adept at including details that allow readers to understand the story's setting…Twilight fans will appreciate the supernatural, star-crossed romance." --School Library Journal