Napoleon's Egypt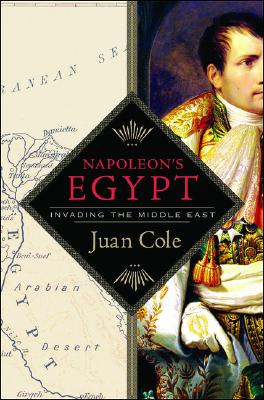 Napoleon's Egypt
Invading the Middle East
Palgrave MacMillan, Hardcover, 9781403964311, 279pp.
Publication Date: August 1, 2007
* Individual store prices may vary.
Buy at Local Store
Enter your zip code below to purchase from an indie close to you.
or
Not Currently Available for Direct Purchase
Description
In this vivid and timely history, Juan Cole tells the story of Napoleon's invasion of Egypt. Revealing the young general's reasons for leading the expedition against Egypt in 1798 and showcasing his fascinating views of the Orient, Cole delves into the psychology of the military titan and his entourage. He paints a multi-faceted portrait of the daily travails of the soldiers in Napoleon's army, including how they imagined Egypt, how their expectations differed from what they found, and how they grappled with military challenges in a foreign land. Cole ultimately reveals how Napoleon's invasion, the first modern attempt to invade the Arab world, invented and crystallized the rhetoric of liberal imperialism.
About the Author
Juan Cole received his doctorate in Islamic Studies from the University of California, Los Angeles, in 1984. Since then, he has taught history at the University of Michigan. His monographs have treated the Shiite clergy in South Asia, anti-colonial revolution in Egypt, millenarianism in modern Iran, transnational Shiite thought and movements, Napoleon Bonaparte's invasion of Egypt, and the US engagement with the Muslim world. After September 11, he emerged as a public intellectual, with frequent appearances on television and radio and popular columns at Salon and Truthdig. His weblog, Informed Comment, receives a wide readership from those interested in the Western relationship to the Muslim world.
Praise For Napoleon's Egypt…
"[Cole] has mined a number of rich, recently discovered memoirs and letters to bring the personal aspect of these encounters vividly to life."--The Nation "[A] well-researched contribution to Middle Eastern history."--Publisher's Weekly "Cole has produced an engaging and provocative book."--Richard Fraser, Library Journal "Cole's sources allow for a well-rounded accounting of events."--The Columbus Dispatch "Historian Cole, effectively utilizing diaries and letters of contemporaries on both sides, illustrates the confusion, hostilities, and necessary accommodations as two distinct cultures collide."--Jay Freeman, Booklist "The book itself contains a lively account of the first eight months of France's invasion of Egypt in the summer 1798 followed by a bloody attempt to occupy and then to hold the country by the use of armed force.  Unlike almost every previous work which highlights the presence of numerous French scientists and archaeologists among the members of what is usually presented as a civilizing mission, the aim of this work is to present the occupation as a series of vicious military encounters, of battles, skirmishes and ambushes, between the French and a population which they could not understand the members of which they could not correctly identify...It is to Cole's great credit that he does not force the parallels too far.  But the shadow of contemporary Iraq is never far away." - Roger Owen, Dar Al-Hayat "As the bibliography of the disaster known as the Bush administration grows, a useful early distinction will be chronicle versus analysis and context.  Cole, a thoughtful and imaginative scholar, offers the latter with his account of an earlier, disastrous attempt to interfere with the Arab world." -- Robert Birnbaum, the Morning News   "A timely and entertaining look at a previous Middle Eastern misadventure by one of America's most provocative and informed scholars."--Lawrence Wright, author of the Pulitzer Award-winning The Looming Tower: al-Qaeda and the Road to 9/11 "We are told that at the time of their invasion of Iraq the top leaders of the U.S. did not know anything about the division within Islam between Sunni and Shia -- or, for that matter, the history of Iraq, Iran, Egypt, or the other key countries of the Middle East. If any American is interested in catching up, the place to begin is with Juan Cole's Napoleon's Egypt: The Invention of the Middle East, a masterful and beautifully written account of Western imperialism's first assault on the Islamic world.  It includes indispensable details on the West's contempt for Islamic peoples -- so-called Orientalism -- and the untold misery it has caused."--Chalmers Johnson, author of Nemesis: The Last Days of the American Republic "When Napoleon invaded Egypt, many outsiders believed the Middle East was a region they could easily conquer and rule. Some still believe it. Cole's book reminds us that today's leaders are not the first to find the Islamic world far more complex than they imagined. It not only offers delicious stories about the private lives of invaders, but also teaches urgent lessons for the modern age."--Stephen Kinzer, bestselling author of Overthrow and All the Shah's Men "This is a detailed account of Napoleon's brief attempt to invade and occupy Egypt. With great skill the author depicts the horrors and massacres consequent to an invasion and the evil it causes both occupier and occupied. Imperial attempts have seldom been as disastrous a fiasco as this one was and Napoleon tried to down play the brutality and cupidity of the invasion and ordered the State Papers dealing with it burnt. However thanks to the diaries and letters of the invaders we have detailed accounts of how a so-called civilized people can inflict untold horrors on an alien race in the name of imperialism, which in other words, was for greed and contempt for 'the other' masked in the guise of teaching them 'liberty', a concept which today we translate as 'democracy'."--Afaf Lutfi al-Sayyid Marsot, Professor Emerita of Near Eastern History, UCLA, and award-winning author of Egypt in the Reign of Muhammed Ali "This is a remarkable book, which provides a gripping account of the first modern encounter between a western army and a Middle Eastern country, and should provide cautionary reading for those who still think that superior Western power will inevitably prevail over the resistance of a population determined not to be subjugated by outsiders."--Rashid Khalidi, Edward Said Professor at Columbia and author of The Iron Cage and Resurrecting Empire "Most books on the expedition focus on the outsize characters of Napoleon and his staff.  But Juan Cole presents it through Egyptian eyes." - International Herald Tribune 
"Cole's book presents an erudite, very readable and sometimes fascinating account of Napoleon's campaign, and adds to our knowledge of this endeavor."—Bustan: The Middle East Book Review