The Bush Betrayal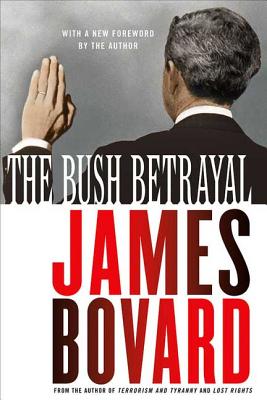 The Bush Betrayal
Palgrave MacMillan Trade, Paperback, 9781403968517, 352pp.
Publication Date: September 1, 2005
* Individual store prices may vary.
Buy at Local Store
Enter your zip code below to purchase from an indie close to you.
or
Not Currently Available for Direct Purchase
Description
His hard-hitting critiques of Democrat and Republican administrations in The Wall Street Journal, New York Times, Newsweek, and other national publications have made him a "bipartisan scourge." Now in this paperback edition, James Bovard launches a blistering attack on the Bush administration that will add new fuel to the fires of Bush opponents while giving presidential supporters much to think about. In a series of cogently argued allegations, Bovard shows how the campaign promises of 2000 and 2004 have betrayed not only the electorate, but the Constitution itself: from the erosion of civil liberties, massive debt, and the arrogance of federal agencies, to economic policies that favor the wealthy, and the deceptive maneuvers that led to war in Iraq and the alienation of former allies. For every American, The Bush Betrayal will be required reading as Bush continues his second term.
About the Author
James Bovard has written for The Wall Street Journal, the American Spectator, The New York Times, The New Republic, The Washington Post and Newsweek. His most recent book was Terrorism and Tyranny: Trampling Freedom, Justice and Peace to Rid the World of Evil (Palgrave Macmillan).
Praise For The Bush Betrayal…
Bovard was a winner of the Lysander Spooner Award for Advancing the Literature of Liberty



A comprehensive attack on the administration from a less-often-heard place on the political spectrum.



Jim Bovard is a one-man policy think tank, or, rather, a one-man version of what a policy think tank ought to be. Instead of cozying up to the state, the Beltwayites ought to be trying to copy Bovard: doing meticulous and meticulously documented analysis of the crimes of government. Who ever looks, really looks, with the right attitude, at the budget and programs of a federal agency? Or records, with great wit, all the felonies against freedom of the Clinton and Bush administrations? Not that they could copy Bovard, but they ought to try. [The Bush Betrayal] is the handbook of our revolution.



Ahhh, life is so good lately. Happy times. Today, the Postmaster General delived to my door an early copy of The Bush Betrayal, sent to me by Jim Bovard. It's not quite available yet for the masses, but will be soon. So quit wasting time and go order it. A quick glance at this book immediately indicates two things: this book is going to kick some Bush-loving a**, and, cracking open this irresistable cover is going to keep me up til 2am again tonight.



One American - a true patriot in my opinion - who has not been hoodwinked or bamboozled by Bush Administration propaganda is James Bovard.... The Bush Betrayal is the best book for an introductory course on what patriotism really means, and it will certainly help awake a comatose public before all its rights are trampled by future 'Bush's'.



This book is bound to be banned. It obviously violates several federal statutes. It's rapid-fire, high-capacity, equipped with bayonet-sharp wit, and loaded with politician-piercing ammo. Never mind that the ammo is merely words. We already know how terrified the Bush administration is of opponents who fire verbs and nouns.... If you already believed the Bush administration was a bit scary, perhaps even a bit mad, you'll have more evidence than you ever imagined after finishing The Bush Betrayal. If (like me) you believe you already know everything you need to know about the administration's ways, I can assure you that you'll learn more and - this is the kicker - enjoy the process of discovering the facts.