Left in the Dust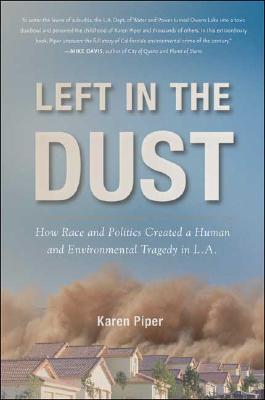 Left in the Dust
How Race and Politics Created a Human and Environmental Tragedy in L.A.
Palgrave MacMillan, Hardcover, 9781403969316, 223pp.
Publication Date: July 25, 2006
* Individual store prices may vary.
Buy at Local Store
Enter your zip code below to purchase from an indie close to you.
or
Not Currently Available for Direct Purchase
Description
An intensely personal story crossed with a political potboiler, "Left in the Dust" is a unique and passionate account of the city of Los Angeles's creation, cover-up and inadequate attempts to repair a major environmental catastrophe. Owens River, which once fed Owens Lake, was diverted away from the lake to supply the faucets and sprinklers of Los Angeles. The dry lakebed now contains a dust saturated with toxic heavy metals, which are blown from the lake and inhaled by unsuspecting citizens throughout the Midwest, causing major health issues. Karen Piper, one of the victims who grew up breathing that dust, reveals the shocking truth behind this tragedy and examines how waste and pollution are often neglected to encourage urban growth, while poor, non-white, and rural areas are forgotten or sacrificed.
About the Author
Karen Piper is Associate Professor, Department of English, University of Missouri-Columbia and author of "Cartographic Fictions: Maps, Race, and Identity." She lives in Columbia, Missouri.
Praise For Left in the Dust…
"To water the lawns of suburbia, the L.A. Dept. of Water and Power turned Owens Lake into a toxic dustbowl and poisoned the childhood of Karen Piper and thousands of others. In this extraordinary book, Piper uncovers the full story of California's environmental crime of the century."--Mike Davis, author of City of Quartz and Planet of Slums "Beyond the eco-thriller aspects of this book, Piper is exploring something far more complicated than a villain and victim, a city's thirst, a valley's dust; she is using the water to ask questions about the notion of development and American assumptions about progress toward the public good."-- Los Angeles Times
"Another compelling reason not to breathe in L.A...Throughout, Piper writes with prickly, if controlled, anger, much in the kindred spirit of Mark Davis's City of Quartz, which bookends this neatly. The tone is fitting....Readers who admire Davis's work and that of the late Marc Reisner will find this fine entry in the library of apocalyptic Californiana of urgent interest."--Kirkus " [A] systematic approach to the same story outlined in the movie Chinatown, in which powerful forces stole water from rural areas of California to foster development in Los Angeles."--Columbia Daily Tribune "Left in the Dust is a scathing critique of water imperialism in the Owens Valley. In its relentless thirst for water, Los Angeles transformed a once-lush valley into a desert and ruined the lives of the people who lived and worked there. By demonstrating how ecological changes in the Valley injured people of color in particular, Piper brilliantly exposes the story of the Los Angeles aqueduct into an environmental justice tragedy"--Andrew Hurley, author of Environmental Inequalities: Class, Race, and Industrial Pollution in Gary, Indiana, 1945-1980, and Diners, Bowling Alleys, and Trailer Parks: Chasing the American Dream in the Postwar Consumer Culture