God's Companions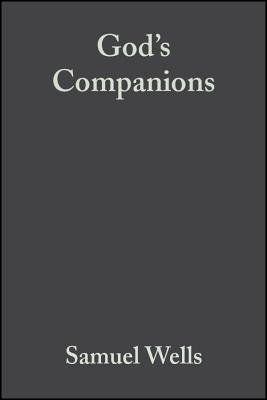 God's Companions
Reimagining Christian Ethics
Blackwell Publishers, Paperback, 9781405120142, 232pp.
Publication Date: June 19, 2006
* Individual store prices may vary.
Buy at Local Store
Enter your zip code below to purchase from an indie close to you.
or
Buy Here
Description
We are pleased to annouce that "God's Companions" by Samuel Wells has been shortlisted for the 2007 Michael Ramsey Prize for theological writing. www.michaelramseyprize.org.uk
Grounded in Samuel Wells' experience of ordinary lives in poorer neighborhoods, this book presents a striking and imaginative approach to Christian ethics. It argues that Christian ethics is founded on God, on the practices of human community, and on worship, and that ethics is fundamentally a reflection of God's abundance.
Wells synthesizes dogmatic, liturgical, ethical, scriptural, and pastoral approaches to theology in order to make a bold claim for the centrality of the local church in theological reflection. He considers the abundance of gifts God gives through the practices of the Church, particularly the Eucharist. His central thesis, which governs his argument throughout, is that God gives his people everything they need to worship him, be his friends, and eat with him. Wells engages with serious scholarly material, yet sets out the issues lucidly for a student audience.
About the Author
Stanley Hauerwas is Gilbert T. Rowe Professor of Theological Ethics at the Divinity School, Duke University, North Carolina. He is regarded as a, if not the, leading figure in Christian ethics. His book, "A Community of Character: Toward a Constructive Christian Social Ethic," was selected as one of the 100 most important books on religion of the twentieth century. He is one of the most brilliant and original thinkers of his generation. He has written numerous books including: "The Peaceable Kingdom "(1983)," A Community of Character "(1981)," Resident Aliens "(1989)," Christians Among the Virtues "(1997)," Wilderness Wanderings: Probing Twentieth Century Theology "(1997), "Sanctify Them in the Truth "(1998), and "With the Grain of the Universe: the Church's Witness and Natural Theology" (2001).
Samuel Wells is Priest-in-Charge of St Mark's, Newnham, Cambridge, and a writer in theological ethics. He has published several books, including "Transforming Fate into Destiny" (1998), "Faithfulness and Fortitude "(2000), and "Improvisation and the Drama of Christian Ethics" (2004).