Arcadia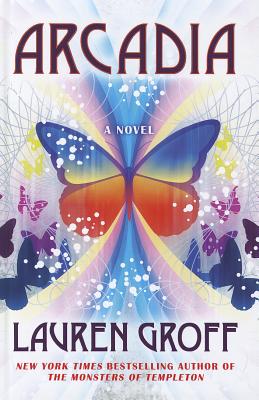 Arcadia
Thorndike Press, Hardcover, Large Print, 9781410448613, 467pp.
Publication Date: June 22, 2012
* Individual store prices may vary.
Not Currently Available for Direct Purchase
or
Shop Local
Enter your zip code below to purchase from an indie close to you.
Description
From the bestselling author of The Monsters of Templeton comes a lyrical and gripping story of a great American dream.
In the fields of western New York State in the 1970s, a few dozen idealists set out to live off the land, founding what would become a commune centered on the grounds of a decaying mansion called Arcadia House. Arcadia follows this romantic, rollicking, and tragic utopian dream from its hopeful start through its heyday and after. Arcadia's inhabitants include Handy, a musician and the group's charismatic leader; Astrid, a midwife; Abe, a master carpenter; Hannah, a baker and historian; and Abe and Hannah's only child, the book's protagonist, Bit, who is born soon after the commune is created.
While Arcadia rises and falls, Bit, too, ages and changes. If he remains in love with the peaceful agrarian life in Arcadia and deeply attached to its residents--including Handy and Astrid's lithe and deeply troubled daughter, Helle--how can Bit become his own man? How will he make his way through life and the world outside of Arcadia where he must eventually live? With Arcadia, her first novel since her lauded debut, The Monsters of Templeton, Lauren Groff establishes herself not only as one of the most gifted young fiction writers at work today but also as one of our most accomplished literary artists. Praise for Arcadia:
"Richly peopled and ambitious and oh, so lovely, Lauren Groff's Arcadia is one of the most moving and satisfying novels I've read in a long time. It's not possible to write any better without showing off."
--Richard Russo, author of the novel That Old Cape Magic and the Pulitzer Prize-winning Empire Falls
"Part Stone Diaries, part Lord of the Flies, part something out of a Shakespearean tragedy, Lauren Groff's Arcadia is so uniquely absorbing that you finish it as if waking from a dream. Groff is one of our most talented writers, and Arcadia one of the most revelatory, magical, and ambitious novels I've read in years."
--Kate Walbert, author of the New York Times bestselling novel A Short History of Women "Arcadia feels true, as do the characters who populate this extraordinary novel, which lingers on passing moments in time and highlights the importance of place in preserving not only our memories, but also ourselves."
--Hannah Tinti, author of the bestselling and award-winning novel The Good Thief "It's not possible to write any better without showing off."--Richard Russo, author of the Pulitzer Prize-winning novel Empire Falls "Lauren Groff's dazzling new novel brings the flawed visions of a '60s commune to life It features] an unflinching, wonderment-fueled child narrator along the lines of Huck Finn or David Mitchell's Jason Taylor At a moment when so much floating anger struggles for articulation, it's Groff's essential human empathy that gives her work its urgency."--Vogue "One of our best young novelists brings a lost Eden of hippiedom freshly to life...Groff's prismatic prose style lends itself to the darker currents that run beneath the Arcadian dream both poetic and ambitious."--Elle "An astonishing novel, both in ambition and achievement, filled with revelations that appear inevitable in retrospect, amid the cycle of life and death A novel of 'the invisible tissue of civilization, ' of 'community or freedom, ' and of the precious fragility of lives in the balance."--STARRED Kirkus Reviews " A] beautifully crafted novel it] gives full rein to Groff's] formidable descriptive powers, as she summons both the beauty of striving for perfection and the inevitable devastation of failing so miserably to achieve it."--STARRED Booklist "Beautifully chiaroscuro a] rich tapestry of story exploring how we sustain hope and idealism in a world that presents us with unavoidable sadness."--BookPage "Refusing to deck out her narrative in period tie-dye, Groff uses language at once nuanced, pointed, and gorgeous to vivify her setting 'They can wound, stories, they can blister' that's as true here as it was in Groff's masterly debut, The Monsters of Templeton Ambrosia for books clubs; consider multiples." --Library Journal "Arcadia feels true, as do the characters who populate this extraordinary novel." --Hannah Tinti, author of The Good Thief

About the Author
Lauren Groff was born in Cooperstown, New York, which is the model for "Templeton," her novel's setting. Groff's short stories have appeared in publications including "The Atlantic Monthly," "Ploughshares" and "The Best American Short Stories" and "Pushcart Prize" anthologies. She lives in Gainesville, Florida.