Victory at Yorktown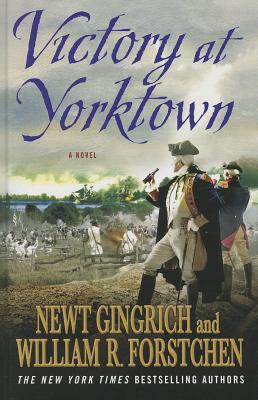 Victory at Yorktown
Thorndike Press, Hardcover, Large Print, 9781410453006, 585pp.
Publication Date: December 5, 2012
* Individual store prices may vary.
Buy at Local Store
Enter your zip code below to purchase from an indie close to you.
or
Not Currently Available for Direct Purchase
Description
"New York Times" bestselling authors Newt Gingrich and William R. Forstchen present the triumphant conclusion to their George Washington series--a novel of leadership, brotherhood, loyalty, and the victory of the American cause.
It is 1781, and Washington and his army have spent three years in a bitter stalemate, engaging in near constant skirmishing against the British. The enemy position in New York is far too strong, and all approaches covered by the Royal Navy. At last two crucial reports reach Washington. The first is that the French have briefly committed a fleet to the American coast to engage the British. The second is that British General Cornwallis, driven to distraction by the protracted warfare in the Carolinas, has decided to withdraw into Yorktown to establish a new base.
Washington decides to embark on one of the most audacious moves in American military history. He will take nearly his entire army out of New Jersey and New York, and force march it more than three hundred miles in complete secrecy. He must pray that the French navy is successful in blockading Chesapeake Bay, so that he can fall upon Cornwallis, lay siege to him, and capture his entire force. It is a campaign ladened with "Ifs" but the stalemate must be broken, otherwise the American spirit, after six long years of war, will crumble.
Sergeant Peter Wellsley is tasked with "paving the way" for the rapid movement of the army, and above all else neutralizing any loyalists who might slip off to provide warning. The entire operation is predicated on complete, total surprise, a near-impossible task for an army moving through areas that harbor strong loyalists. On the other side, Allen Van Dorn, still mourning the loss of his friend Major Andre, receives bits and pieces of reports from civilians that something is afoot across New Jersey and is tasked to find out what. When one of the former friends is captured, both must decide where their true loyalties lie during the heat of the Battle of Yorktown as Washington's professional army, once a "rabble in arms," executes the war's most decisive contest.
With "Victory at Yorktown," critically acclaimed authors Newt Gingrich and William R. Forstchen have reached the pinnacle of their talents in a tour de force narrative of one of America's most important heroes.
About the Author
Newt Gingrich, former Speaker of the House, is coauthor of several bestselling books, including Pearl Harbor: A Novel of December 8 and Gettysburg: A Novel of the Civil War. He is a member of the Defense Policy Board and is the longest-serving teacher of the Joint Flag Officer Warfighting Course at the United States Air Force's Air University.

William R. Forstchen, author of several dozen books in the fields of science fiction, history, and historical fiction, resides in western North Carolina. He holds a Ph.D. in history from Purdue University and is a professor of history at Montreat College. His works include the coauthored, New York Times bestselling series Gettysburg, written with Newt Gingrich, the Lost Regiment series, and the award-winning We Look Like Men of War, a novel based on his doctoral dissertation about an African American regiment in the Civil War. He spends most summers in Mongolia, doing archaeological and historical research, and his current hobby is the restoration and flying of a replica P-51 Mustang fighter plane.

Albert S. Hanser contributed to "To Make Men Free".