Inside the Revolution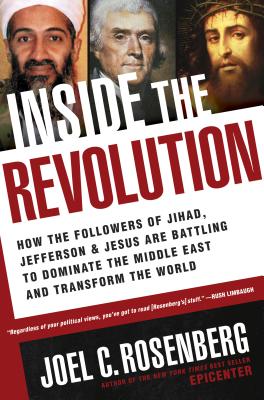 Inside the Revolution
How the Followers of Jihad, Jefferson & Jesus Are Battling to Dominate the Middle East and Transform the World
Tyndale House Publishers, Hardcover, 9781414319315, 551pp.
Publication Date: March 10, 2009
* Individual store prices may vary.
Buy at Local Store
Enter your zip code below to purchase from an indie close to you.
or
Not Currently Available for Direct Purchase
Description
2009 Retailer's Choice Award winner "Inside the Revolution" takes you inside the winner-take-all battle for the hearts, minds, and souls of the people of the Middle East. It includes never-before-seen profiles of the Radicals, the Reformers and the Revivalists. It explains the implications of each movement and the importance of each leader not only through the lenses of politics and economics but through the third lens of Scripture as well. Today, wars and revolutions define the modern Middle East, and many believe the worst is yet to come. How real and serious is the threat of Radical Islam to American national security eight years after 9/11? Are there any Muslim leaders who oppose the violence of the Radicals—and is there any hope that such leaders will come to power in key countries in the Middle East? What is God doing in the Middle East—and is there any hope that Muslims will find faith in Jesus Christ? How can we as Christians help strengthen our brothers and sisters who love Jesus in the Muslim world, and how can we reach out to Muslims here at home?
About the Author
Joel C. Rosenberg is a New York Times bestselling author with more than 2.5 million copies sold among his seven novels (The Last Jihad, The Last Days, The Ezekiel Option, The Copper Scroll, Dead Heat, The Twelfth Imam, and The Tehran Initiative), four nonfiction books (Epicenter, Inside the Revolution, Implosion, and The Invested Life), and digital short (Israel at War). A communications strategist based in Washington, D.C., he has worked with some of the world s most influential and provocative leaders, including Steve Forbes, Rush Limbaugh, Natan Sharansky, and Benjamin Netanyahu. Once a political columnist for World magazine, he now writes commentaries for National Review as well as a weekly e-mail update known as Flash Traffic for business and political leaders. A front-page Sunday New York Times profile called him a force in the capital. He has also been profiled by the Washington Times and the Jerusalem Post and has been interviewed on ABC s Nightline, CNN Headline News, FOX News Channel, The History Channel, MSNBC, The Rush Limbaugh Show, and The Sean Hannity Show.