Uncommon Marriage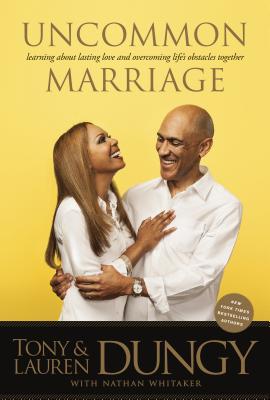 Uncommon Marriage
Learning about Lasting Love and Overcoming Life's Obstacles Together
Tyndale Momentum, Hardcover, 9781414383699, 234pp.
Publication Date: February 4, 2014
* Individual store prices may vary.
Shop Local
Enter your zip code below to find indies closest to you.
Description
What does it take to build a marriage that will last? Tony and Lauren Dungy have together known the highest of highs and the lowest of lows. They fell in love, built a family, and made sports history when Tony became the first African American head coach to win the Super Bowl. Yet they've also gone through difficult, relationship-testing setbacks, including job loss and devastating personal tragedy. In a culture where it seems harder and harder to make marriage last, what has kept the Dungys strong through it all? In "Uncommon Marriage," Tony and Lauren share the secrets that hold them together, revealing what they've learned so far about being a good husband or wife; getting through times of loss, grief, or change; staying connected despite busy schedules; supporting each other's dreams and goals; and helping each other grow spiritually. They offer encouragement and practical advice to equip your marriage to survive tough issues and flourish with joy, purpose, and partnership--in other words, to be a marriage that is truly uncommon.
About the Author
J. Drew Pittman is principal for Domann and Pittman, one of America's premier sports management agencies. The firm has had more than one hundred players drafted into the National Football League (NFL). Over a dozen of his clients have played in Super Bowls and Pro Bowls. Drew resides in Austin, Texas, with his wife, Layne, and two sons.
Lauren Dungy and her husband Tony Dungy are active members of a number of family, faith, and community-based organizations, including All Pro Dad, iMom, Fellowship of Chrstian Athletes, Mentors for Life, Family First, Big Brothers Big Sisters of America, and the Boys and Girls Club of America. Tony is a former NFL player and retired head coach of the 2006 Superbowl Champions, the Indianapolis Colts of the National Football League.
Tim Tebow is an NFL quarterback, who was a first-round draft pick in 2010. He was the first-ever sophomore to win the Heisman Trophy and won the NCAA National Football Championships twice with the University of Florida Gators. His charitable organization, the Tim Tebow Foundation, was established in 2010 to bring faith, hope, and love to those in need.
Nathan Whitakeris the coauthor of three New York Times bestsellers including Quiet Strength, which he co-wrote with Tony Dungy. He lives in Florida.