Moonsinger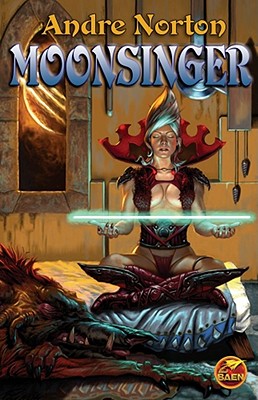 Moonsinger
Baen Books, Hardcover, 9781416520610, 405pp.
Publication Date: May 1, 2006
* Individual store prices may vary.
Buy at Local Store
Enter your zip code below to purchase from an indie close to you.
or
Not Currently Available for Direct Purchase
Description
Moon of Three Rings: It is the time of the Moon of the Three Rings when the Free Trader ship Lydis lands on the primitive world of Yiktor, a world the Combine was seeking to control for the power the Three Rings would bring them. The life of a Free Trader was all junior crew member Krip Vorlund knew. That life ended at a beast show on Yiktor when Vorlund was strangely attracted to the owner of the show animals, a delicate and mysterious woman named Maelen. Too soon Vorlund learned the nature of Maelen's sorcery, too soon he is caught up in the struggle over the fate of a world.... But his soul would remain his own.
Exiles of the Stars: The galactic trade ship Lydis is making a run to the planet Thoth when a civil war lands her in a battle of ancient powers and nameless evil, with a Forerunner treasure at its heart. The crew seems normal-until you look closely at two of its members: Krip Vorlund, a man who walks in a body not his own, and his pet, a four-legged beast hiding the mind of Maelen the Moon Singer, a woman whose esper powers can save them all-or bring them to eternal destruction.
Publisher's Note: Moonsinger has appeared separately as Moon of Three Rings, and its sequel, Exiles of the Stars. This is the first time the complete saga has appeared in one volume.
About the Author
For well over a half century, Andre Norton was one of the most popular science fiction and fantasy authors in the world. Since her first SF novels were published in the 1940s, her tales of action and adventure throughout the galaxy have drawn countless readers to science fiction. Her fantasy, including the best-selling Witch World series, has been popular with readers for decades. Andre Norton was the first woman to receive the Gandalf Grand Master of Fantasy Award, presented by the World Science Fiction Society in 1977 and the first woman to be named a Grand Master by the Science Fiction Writers of America in 1983.