Devil Bones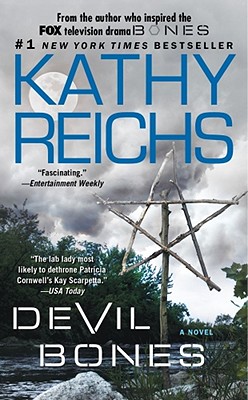 Devil Bones
Pocket Star Books, Mass Market Paperbound, 9781416525660, 382pp.
Publication Date: June 23, 2009
* Individual store prices may vary.
Buy Now
or
Shop Local
Enter your zip code below to purchase from an indie close to you.
Description

Now in mass market from the bestselling author, forensic anthropologist, and producer of the FOX television hit "Bones" the riveting #1 "New York Times "bestselling Temperance Brennan novel.
In a house under renovation in Charlotte, North Carolina, a plumber discovers a forgotten cellar, and some rather grisly remains the severed head of a teenage girl, several decapitated chickens, and a couple of cauldrons containing beads, feathers, bones, and other relics of religious ceremonies. In a river not far away, an adolescent boy's torso carved with a pentagram, is found. Are these crimes the work of Satanists and devil worshippers?
Nothing is clear, neither when the deaths occurred, nor where. Was the skull brought to the cellar or was the girl murdered there? As Temperance Brennan is called in to investigate, citizen vigilantes intent on a witch hunt are led by a preacher turned politician, looking for revenge.

About the Author
Kathy Reichs is the author of eighteen "New York Times" bestselling novels featuring forensic anthropologist Temperance Brennan. Like her protagonist, Reichs is a forensic anthropologist one of fewer than one hundred ever certified by the American Board of Forensic Anthropology. A professor in the Department of Anthropology at the University of North Carolina at Charlotte, she is a former vice president of the American Academy of Forensic Sciences and serves on the National Police Services Advisory Council in Canada. Reichs s own life, as much as her novels, is the basis for the TV show "Bones", one of the longest-running series in the history of the FOX network.
Praise For Devil Bones…
"Loved it! I'm amazed by how seamlessly Reichs makes the transition from forensic jargon to snappy, funny dialogue -- scientist to great storyteller. What's not to admire and envy?" -- Sandra Brown, author of Play Dirty



"Reichs is a standout...[with] a formidable way of incorporating science with character and plot.... Her expertise is snappily and entertainingly delivered." -- Booklist



ÒDevil Bones is her best yet.Ó ÑThe Globe and Mail (Toronto)



"The lab lady most likely to dethrone Patricia Cornwell's Kay Scarpetta." -- USA Today



"Reichs keeps the roller coaster on track and speeding along, page after page." -- Jeffery Deaver