Heart of the Assassin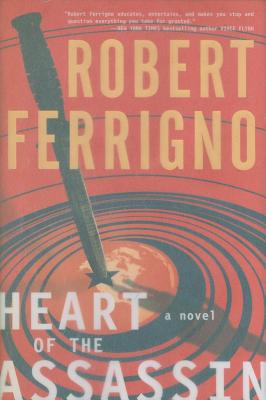 Heart of the Assassin
Scribner, Hardcover, 9781416537670, 368pp.
Publication Date: August 11, 2009
* Individual store prices may vary.
Buy at Local Store
Enter your zip code below to purchase from an indie close to you.
or
Not Currently Available for Direct Purchase
Description
The third volume in the wildly entertaining epic trilogy that began with Prayers for the Assassin—where a retired shadow warrior and his wife battle to save a futuristic America con- tolled by an Islamic regime.
With its neo-Orwellian setting and "genuinely fright- ening" (The New York Times) premise in which most of the United States has become an Islamic republic, Robert Ferrigno's Assassin novels have prompted readers to sit up and take notice. Now, he returns once again to the blood-soaked dystopia in Heart of the Assassin—the final installment in his provocative page-turning trilogy.
Time is running out for the two nations that once made up the former U.S.A. Weakened by their division, both the Islamic republic and the Bible Belt are threatened by the expansionist dreams of the Atzlan Empire to the south, and their own intellectual decay engendered by their fundamen- talist beliefs. The only solution is to reunite the two nations and regain its former glory, and there's only one way to do it. And only one man, Rakkim Epps, who can. Time is also run- ning out for the arch enemy of the trilogy, the Old One. Over 150 years old, long used to the idea of near immortality, he is dying, and with him the idea of creating one world under his domination. His solution is to reunite the Islamic republic and the Bible Belt, a first step in his march to power. His plan involves his voluptuous and deadly daughter Baby...and none other than Rakkim himself.
In his Assassin novels, Ferrigno has created a futuristic world that is at once completely familiar and utterly different. Filled with bold cinematic imagery, compelling characters, and riveting suspense, Heart of the Assassin is a satisfying thriller with timely appeal.
About the Author
Robert Ferrigno was born in South Florida, a tropical backwater rife with mosquitoes and flying cockroaches.
After earning college degrees in Philosophy, Film-Making, and Creative Writing, he returned to his first love, poker. He spent the next five years gambling full-time and living in a high-crime area populated by starving artists, alcoholics, thieves and drug dealers, becoming friends with many people who would later populate his novels.
He used some of his winnings to start a punk rock magazine called The Rocket, where he interviewed the Clash, Elvis Costello, Iggy Pop, etc. The success of The Rocket got him a job as a feature writer for a daily newspaper in Southern California, where he took the adventure-and-new-money beat.
Over the next seven years he flew jets with the Blue Angels, drove Ferraris, and went for desert survival training with gun nuts. He ultimately gave up his day job to become a novelist, and his first book, The Horse Latitudes, was called "the fiction debut of the season" by Time magazine.
His most recent novel, The Wake-Up, was described by Kirkus Reviews as "Sharp, fast, and slick. Ferrigno can read like Raymond Chandler on speed, with pages turning and adrenaline pretty high throughout."
Prayers for the Assassin is his ninth novel.
He lives in Washington State with his family.