They Call Me Naughty Lola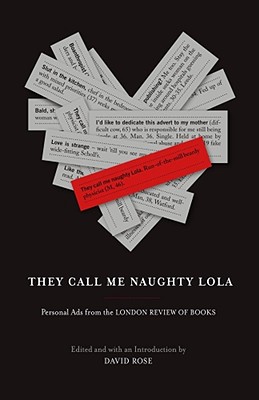 They Call Me Naughty Lola
Personal Ads from the London Review of Books
Scribner, Hardcover, 9781416540298, 176pp.
Publication Date: November 28, 2006
* Individual store prices may vary.
Not Currently Available for Direct Purchase
or
Shop Local
Enter your zip code below to purchase from an indie close to you.
Description
I've divorced better men than you. And worn more expensive shoes than these. So don't think placing this ad is the biggest comedown I've ever had to make. Sensitive F, 34.
Employed in publishing? Me too. Stay the hell away. Man on the inside seeks woman on the outside who likes milling around hospitals guessing the illnesses of out-patients. 30-35. Leeds.
They Call Me Naughty Lola is a testament to the creativity and humor that can still be found among men and women longing for love and allergic to the concepts of Internet and speed dating. Here is an irresistible collection of the most brilliant and often absurd personal ads from the world's funniest -- and most erudite -- lonely-hearts column. The ads have been called "surreal haikus of the heart," and in an age of false advertising, the men and women who write them are hindered neither by high expectations nor by positivism of any kind. And yet, while hopes of finding a suitable mate remain low, the column has produced a handful of marriages, many friendships, and at least one divorce.
Here are the young, old, fat, bald, healthy, ill, rich, and poor hoping that they can find true love, or at the very least, someone to call them Naughty Lola.
About the Author
David Rose works at the New York office of the LRB and divides his time between New York, Liverpool and California.