Sala's Gift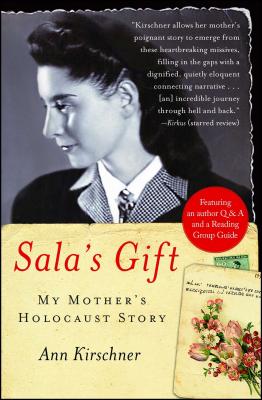 Sala's Gift
My Mother's Holocaust Story
Free Press, Paperback, 9781416541707, 300pp.
Publication Date: June 2007
* Individual store prices may vary.
Buy Now
or
Shop Local
Enter your zip code below to purchase from an indie close to you.
Description
For nearly fifty years, Sala Kirschner kept a secret: She had survived five
years as a slave in seven different Nazi work camps. Living in America after
the war, she kept hidden from her children any hint of her epic, inhuman
odyssey. She held on to more than 350 letters, photographs, and a diary
without ever mentioning them. Only in 1991, on the eve of heart surgery,
did she suddenly present them to Ann, her daughter, and offer to answer any
questions Ann wished to ask.



When Sala first reported to a camp in Geppersdorf, Germany, at the age of
sixteen, she thought it would be for six weeks. Five years later, she was
still at a labor camp and only she and two of her sisters remained alive of
an extended family of fifty.


Sala's Gift is a heartbreaking, eye-opening story of survival and
love amidst history's worst nightmare.
About the Author
Ann Kirschner is university dean of Macaulay Honors College at the City University of New York. She began her career as a lecturer in Victorian literature at Princeton University, where she earned her PhD. A writer of wide-ranging interests, she is the author of Sala's Gift and an innovator in education, media, and technology. She lives in New York City with her family.
Praise For Sala's Gift…
"Kirschner allows her mother's poignant story to emerge from these heartbreaking missives, filling in the gaps with a dignified, quietly eloquent connecting narrative...[an] incredible journey through hell and back." -- Kirkus (starred review)


"Sala Kirschner spent five years as a slave in Nazi camps as a teen. Now her daughter has gathered Sala's vintage snapshots and the letters that reached her in the camps into a moving volume." -- People


"Evidence of humanity in the face of terrible conditions and of the religious faith and ritual that persisted despite the Nazi campaign to eliminate the Jews." -- The New York Times Book Review


"Sala's unique, stirring end-of-life gift are the letters and photos she received from her sister Raizel when Sala was a slave laborer.... A touching, interesting, and valuable history, one in which the personalities of the principals shine through the wretchedness." -- Jewish Book World