The Time Paradox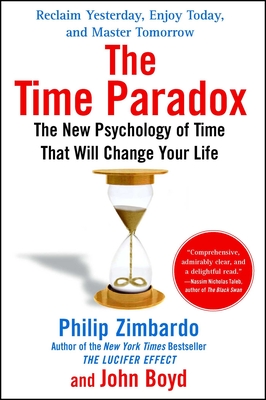 The Time Paradox
The New Psychology of Time That Can Change Your Life
Free Press, Paperback, 9781416541998, 378pp.
Publication Date: July 7, 2009
* Individual store prices may vary.
Buy Now
or
Shop Local
Enter your zip code below to purchase from an indie close to you.
Description
Now in paperback, this breakthrough book on the new psychological science of time by one of the most influential living psychologists the "New York Times "bestselling author of "The Lucifer Effect" and his research partner launched on the front page of "USA TODAY ""Lifestyle" with a Time Survey and on "CBS Morning Show.
This is the first paradox of time: Your attitudes toward time have a profound impact on your life and world, yet you seldom recognize it. Our goal is to help you reclaim yesterday, enjoy today, and master tomorrow with new ways of seeing and working with your past, present, and future.
"
Just as Howard Gardner's "Multiple Intelligences "permanently altered our understanding of intelligence and Malcolm Gladwell's "Blink "gave us an appreciation for the adaptive unconscious, Philip Zimbardo and John Boyd's new book changes the way we think about and experience time. It will give you new insights into how family conflicts can be resolved by ways to enhance your sexuality and sensuality, and mindsets for becoming more successful in business and happier in your life. Based on the latest psychological research, "The Time Paradox "is both a "big think" guide for living in the twenty-first century and one of those rare self-help books that really does have the power to improve lives.
About the Author
Lynne Henderson, PhD, is a psychologist; founder of the Social Fitness Center; founder and codirector of the Shyness Institute in Berkeley, CA; director of applied social research at the Heroic Imagination Project; and author of The Compassionate Mind Guide to Building Social Confidence. Find out more about Henderson's work at shyness.com.

John Boyd is an agricultural engineer with wide experience of developing countries.
Praise For The Time Paradox…
"If you are a decision maker, then you need to read this book. It informs about the central problem of how to discriminate between immediate rewards and future payoffs. The Time Paradox is comprehensive, admirably clear, and a delightful read." -- Nassim Nicholas Taleb, author of The Black Swan


"The Time Paradox explores a very important topic from a fresh, practical, and entertaining perspective. Since time is limited for all of us, this book is well worth your time." -- Daniel Amen, M.D., author of Change Your Brain, Change Your Life and Healing the Hardware of Your Soul


"The Time Paradox reveals how to better use your most irreplaceable resource, based on solid science and timeless wisdom." -- Martin Seligman, author of Authentic Happiness



"Informed by the world's foremost expert on the psychology of time, The Time Paradox combines solid science, compelling stories, and crisp prose to illuminate how time, like the oxygen we breathe, pervades every aspect of our lives. Reading this book will yield insights into your own motivation and behavior and help you be happier, healthier, and more successful. It will also help you understand the source of many of the world's greatest triumphs and most pressing problems -- from terrorism to homelessness, from religion to love, from the successes and failures of CEOs to those of marriages. Zimbardo and Boyd have hit a home run." -- Sonja Lyubomirsky, author of The How of Happiness



"Phil Zimbardo, a master at making complex ideas and discoveries in psychology, including his own, not only intelligible but fun and personally relevant for nonspecialists, has done it again, this time with the fascinating topic of time perspective. Bravo!" -- Walter Mischel, Ph.D., Columbia University Niven Professor of Humane Letters in Psychology