1776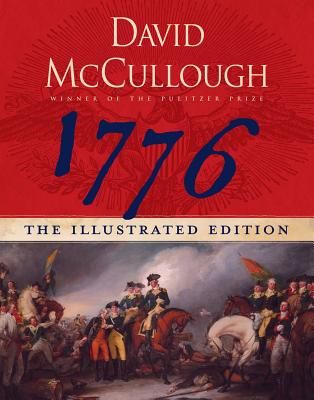 1776
Simon & Schuster, Hardcover, 9781416542100, 256pp.
Publication Date: October 2, 2007
* Individual store prices may vary.
Buy at Local Store
Enter your zip code below to purchase from an indie close to you.
or
Not Currently Available for Direct Purchase
Description
With a new introduction by David McCullough, "1776: The Illustrated Edition" brings 140 powerful images and thirty-seven removable replicas of source documents to this remarkable drama.
In "1776," David McCullough's bestselling account of a pivotal year in our nation's struggle, readers learned of the greatest defeats, providential fortune, and courageous triumphs of George Washington and his bedraggled army. Now, in "1776: The Illustrated Edition," the efforts of the Continental Army are made even more personal, as an excerpted version of the original book is paired with letters, maps, and seminal artwork. More than three dozen source documents including a personal letter George Washington penned to Martha about his commission, a note informing the mother of a Continental soldier that her son has been taken prisoner, and a petition signed by Loyalists pledging their allegiance to the King are re-created in uniquely designed envelopes throughout the book and secured with the congressional seal.
Both a distinctive art book and a collectible archive, "1776: The Illustrated Edition" combines a treasury of eighteenth-century paintings, sketches, documents, and maps with storytelling by our nation's preeminent historian to tell the story of 1776 as never before.
About the Author
David McCullough has been widely acclaimed as a "master of the art of narrative history," "a matchless writer." He is twice winner of the National Book Award, twice winner of the Pulitzer Prize. In December 2006 he received the Presidential Medal of Freedom, the nation's highest civilian award.
His books have been praised for their scholarship, their understanding of American life, their "vibrant prose," and insight into individual character. Mr. McCullough's most recent book, "1776", the number one "New York Times" national bestseller in both hardcover and paperback, has been called, "brilliant...powerful," "a classic." There are three million copies in print, while Mr. McCullough's previous work, "John Adams", remains one of the most critically acclaimed and widely read American biographies of all time. It is presently in its sixty-third printing.
"John Adams", a seven-part mini-series on HBO begins March 16. Produced by Tom Hanks, it stars Paul Giamatti and Laura Linney.
In the words of the citation accompanying his honorary degree from Yale, "As an historian, he paints with words, giving us pictures of the American people that live, breathe, and above all, confront the fundamental issues of courage, achievement, and moral character."
Mr. McCullough's other books include "The Johnstown Flood, The Great Bridge, The Path between the Seas, Mornings on Horseback, Brave Companions, " and "Truman". His work has been published in ten languages and, in all, nearly 9,000,000 copies are in print. As may be said of few writers, none of his books has ever been out of print.
David McCullough is as well twice winner of the prestigious Francis Parkman Prize, and for his work overall he has been honored by the National Book Foundation Distinguished Contribution to American Letters Award and the National Humanities Medal. He has been elected to the American Academy of Arts and Sciences, as well as the American Academy of Arts and Letters and has received more than forty honorary degrees.
In a crowded, productive career, he has been an editor, essayist, teacher, lecturer, and familiar presence on public television -- as host of "Smithsonian World, The American Experience", and narrator of numerous documentaries including "The Civil War". His is also the narrator's voice in the movie "Seabiscuit".
A gifted speaker, Mr. McCullough has lectured in all parts of the country and abroad, as well as at the White House. He is also one of the few private citizens to speak before a joint session of Congress.
Born in Pittsburgh, Mr. McCullough was educated there and at Yale, where he was graduated with honors in English literature. He is an avid reader, traveler, and has enjoyed a lifelong interest in art and architecture. He is as well a devoted painter. Mr. McCullough and his wife Rosalee Barnes McCullough have five children and eighteen grandchildren.
His current project is a book about Americans in Paris, from the 1830's to 1930's.
Praise For 1776…
"This is a narrative tour de force, exhibiting all the hallmarks the author is known for: fascinating subject matter, expert research and detailed, graceful prose. ...Simply put, this is history writing at its best from one of its top practitioners."


-- Publishers Weekly, Starred Review
-aaa

"A master story-teller's character driven account of a storied year in the American Revolution. A sterling account."


-- Kirkus, Starred Review


"...McCullough brilliantly captures the Spirit of '76 in Washington's miraculous victories at Trenton and Princeton. An altogether marvelous contribution that deserves to be read by every American."


-- Library Journal