Downtown Owl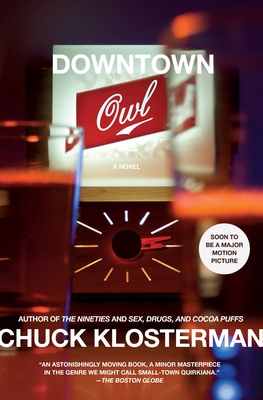 Downtown Owl
Scribner Book Company, Paperback, 9781416544197, 275pp.
Publication Date: June 23, 2009
* Individual store prices may vary.
Buy Now
or
Shop Local
Enter your zip code below to purchase from an indie close to you.
Description
New York Times bestselling author and "oneofAmerica'stop cultural critics" (Entertainment Weekly) Chuck Klosterman's debut novel brilliantly captures the charm and dread of small town life--now available in trade paperback. Somewhere in rural North Dakota, there is a fictional town called Owl. They don't have cable. They don't really have pop culture, but they do have grain prices and alcoholism. People work hard and then they die. But that's not nearly as awful as it sounds; in fact, sometimes it's perfect. Mitch Hrlicka lives in Owl. He plays high school football and worries about his weirdness, or lack thereof. Julia Rabia just moved to Owl. A history teacher, she gets free booze and falls in love with a self-loathing bison farmer. Widower and local conversationalist Horace Jones has resided in Owl for seventy-three years. They all know each other completely, except that they've never met. But when a deadly blizzard-- based on an actual storm that occurred in 1984--hits the area, their lives are derailed in unex- pected and powerful ways. An unpretentious, darkly comedic story of how it feels to exist in a community where local mythology and violent reality are pretty much the same thing, Downtown Owl is "a satisfying character study and strikes a perfect balance between the funny and the pro- found" (Publishers Weekly).
About the Author
Chuck Klosterman is the "New York Times" bestselling author of seven previous books, including "Sex, Drugs, and Cocoa Puffs"; "Eating the Dinosaur"; "Killing Yourself to Live"; and "The Visible Man". His debut book, "Fargo Rock City", was the winner of the ASCAP-Deems Taylor Award. He has written for "GQ, Esquire", "Spin, The Washington Post, The Guardian, The Believer, "and" The Onion A.V. Club". He currently serves as The Ethicist for the "New York Times Magazine" and writes about sports and popular culture for ESPN.
Praise For Downtown Owl…
"An astonishingly moving book, a minor masterpiece in the genre we might call small-town quirkiana." -- The Boston Globe

"It's tempting to compare this novel with Sherwood Anderson's classic portrait of small-town American life, Winesburg, Ohio. But no one in Winesburg listened to Ozzy Osbourne. And Klosterman is much funnier than Anderson." -- The Washington Post